A Single Man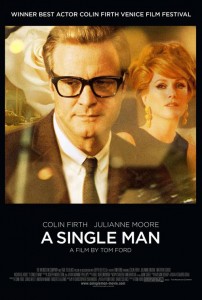 A Single Man is a career defining performance from Colin Firth and one of the strongest, most confident, and beautiful directorial debuts I can recall from Tom Ford.
The film's theme touch on everything from loss, death, love, friendship, and purpose in life and never feels forced, always natural and honest discussions on the subjects.  The film follows a man, George, who decides that today will be the day he finally gets over his lost love that died tragically in a car accident while away on vacation.  The two had been together for years and months after their death George was still having problems everyday getting through his life and not drowning in sadness.
The film takes place over a single day and engages from start to finish with a number of interesting stops along the way for George as he tries to move on from his lover, Jim.  As George grapples with the struggles of the day, they trigger moments in the past with Jim and the scenes are poignant and touching and we really get a sense of their relationship and bond with little screen time devoted to them.
Tom Ford directs the adaptation of  and this film doesn't waste a single frame of the film.  Ford is/was a clothing designer so the man knows details and it is no surprise that his film is so articulate and beautifully put together.  Every shot is interesting and superbly framed and I can not wait to have this at home on Blu-ray.  You could turn the sound off on the picture and still be engaged by the imagery put on screen.  Tom Ford has instantly made me interested in everything he does and he can't make a new film soon enough.
There is only one real concern I had with the picture and that is with the ending which I just don't get why they did what they did.  The protagonists decided method to move on is fully revealed half way through the film and I don't understand how they got to the end they do.  I would love to hear what Ford has to say about it as it is the only thing holding this thing back from perfection.
The film is also quite humorous at times as well injecting humor into situations that should not be funny one bit.  Firth's wit and humor comes across so naturally through this man who is in such a tough place, and the film had a couple of brilliant moments of comedy that seemingly come out of no where and are usually diversions into George's imagination.
The actors in this film are wonderful beyond Firth, with the only weak-ish link being Nicholas Hoult.  Now Hoult isn't bad by any means he is just outmatched by Firth in their scenes and he feels like he is just delivering his lines and not embodying the character.  Lee Pace makes a brief and quite funny appearance in the film and is a great example of how they inject humor into this rather sad material.  Matthew Goode is wonderful as Jim and you just wish you got more scenes with him.  Goode is such a great actor, somebody make this guy a star already.  Julianne Moore plays an eccentric divorcee, longtime friend, and former lover of George's and she knocks it out of the park as usual.  Her main scene with Firth is powerful and revealing for her character and it is amazing to watch the two convey such serious ideas and still be fully believable as they work through it.  Jon Kortajarena makes a brief appearance as a Spanish drifter in the film and he is not only handsome and a James Dean ringer, but the chemistry between him in Firth is electric in an instant and he stands toe to toe.  Lastly, Firth delivers the performance of his career and arguably the best male or female performance of the year.  His range is awe inspiring, crushing your heart one moment then making you laugh the next he is a marvel to watch.  As he goes through the motions we can't help be compelled by his sadness and we can only hope he continues to get such meaty performances from him.
In the end, A Single Man is a wonderful film that outside its ending has zero complaints from me.  It is beautiful, finely acted, and an amazing debut from Tom Ford.  Firth has never been better and you will find few better turns this year.  A lock for top 10 films of the year, I just really want to figure out what they were going for with the ending because they were this close to a masterpiece.
A Single Man is an A