Windows Phone 7 Pictures and Details
There has been a ton of buzz surrounding Microsoft's newest mobile operating system: Windows Phone 7. On October 11, Microsoft CEO Steve Ballmer unveiled some of the new phones that are coming out in early November of this year. And many of the new phones are looking good!
Watch video of some of the new phones that sport Windows Phone 7:

From Microsoft's website, here are the new features of Windows Phone 7: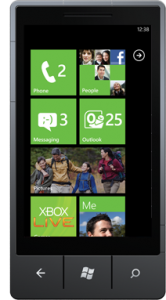 Start Screen and Live Tiles
Quickly customized and constantly updated, the Start screen is home on Windows Phone 7. One glance tells you what's going on, what's happening next, what you've missed. Depending on the app, Start's animated Live Tiles might show pending messages and appointments, news and weather, or game and friend status—all refreshed wirelessly via the web. It's also yours to decorate: pin people, apps, playlists, pictures, and other favorites to Start so they're always at your fingertips.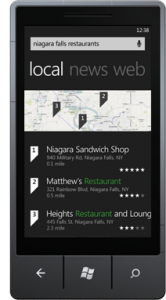 Search and Maps
As the only phone with Bing built in, Windows Phone 7 makes it easier to solve your
day-to-day dilemmas. Where can we eat? When is the movie? Will it rain? How do I get there? Whatever your question, the Search button and Bing Maps can help answer it. Search the web, map an address or place, and get turn-by-turn directions, down to a street-level look at your final destination.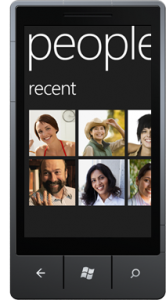 People Hub
Other phones just have address books. In Windows Phone 7, there's the People Hub. People is social central, a place to stay connected and in the loop. Skim your Facebook and Windows Live feeds and photos. Dial or text your friends, then get directions to their place. The Me card—another innovation—makes it easy to update your status or change your profile picture across multiple social networking sites, right from your phone.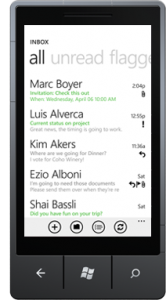 Email
The only phone with Outlook Mobile makes it easier than ever to stay on top of your inbox. With Windows Phone 7 you can quickly cut through the clutter to see only unread, urgent, or flagged messages—or press Search to pinpoint a specific mail. Move or delete messages in bulk, and respond to meeting invites right from your inbox. Streamlined account setup works with Windows Live, Google, Yahoo!, and other popular providers. It also supports multiple Microsoft Exchange accounts for work.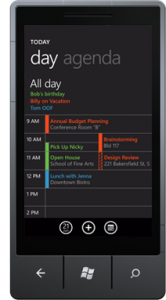 Calendar
Windows Phone 7 shows the details of your next meeting or event right on the Start screen—so you can glance and go. It also combines your work and personal calendars in a single, color-coded view, making it easier to spot conflicts and manage your life. You can map appointment locations with a single tap, and if you get stuck in traffic, Windows Phone has your back: one touch sends a pre-written "I'm running late" mail.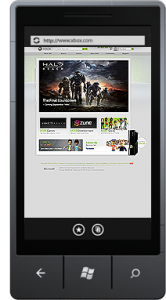 Internet Explorer Mobile
Internet Explorer Mobile puts the web in your pocket, making it easy to surf on the go. Open as many as six tabs, then hop between websites. An efficient address bar suggests sites as you type and even does web searches. Tap phone numbers and addresses on webpages to call or map them quickly. With Internet Explorer, browsing is easy: Scroll with a flick of the finger, zoom with a pinch.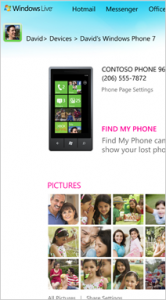 Find My Phone & Windows Live
Losing a phone isn't fun, but the free Find My Phone service on Windows Live can help lower your stress level. Log into Windows Live from any PC to remotely ring, lock, erase, and show your phone's location on a map—or post a "Please Return" note on the screen. Windows Live also makes it easy to manage the stuff on your phone—pictures, your Windows Live calendar, and OneNote notes.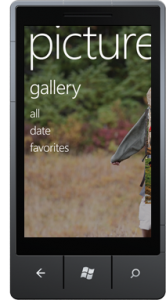 Pictures Hub & Camera
With Windows Phone 7, sharing pictures is as easy as taking them. Press the camera button to snap photos fast, even when your phone is locked. Then send your favorites to friends, or post them to Facebook or Windows Live, all from one place. The Pictures Hub houses your entire collection, including photos you've saved to your phone, and pictures your friends have recently posted on Facebook or Windows Live.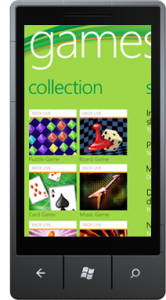 Games Hub
Need a break? In the mood for some friendly competition? The Games Hub is your on-the-go arcade. Whether you enjoy word games, strategy, or action, there's something for everyone in Marketplace. Play solo, or use the free Xbox LIVE service to match wits with friends wherever you are. Your gamer profile can track scores and wins.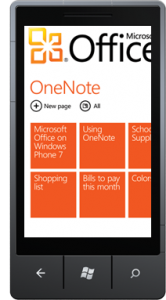 Office Hub
Windows Phone 7 is the only phone with Office Mobile—one more reason you won't miss your PC when you're away from your desk. Windows Phone has mobile versions of Word, Excel, and PowerPoint on hand for reviewing or editing on the go. Notes in OneNote Mobile—grocery lists, meeting memos, spontaneous musings—can sync wirelessly to the web and include voice clips and pictures. SharePoint Workspace Mobile makes it easier to collaborate with your coworkers when you're out and about.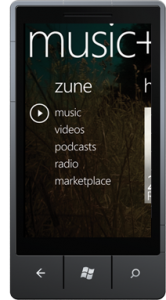 Music + Videos Hub
The Music + Videos Hub is your anytime entertainment center. Play your music collection—synced wirelessly from your PC—or stream or download new tunes from Marketplace. Enjoy custom playlists, listen to podcasts, and recommend favorite songs to friends. There's a built-in FM radio and
high-res screen that's perfect for watching TV shows, movies, or your own video clips. Add an optional Zune Pass subscription to get unlimited music for one low monthly fee.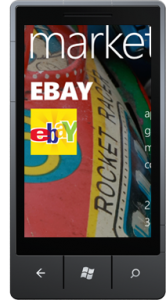 Marketplace Hub
Marketplace is the place to shop for music, games, TV shows, movies, podcasts, and (of course) apps. Available on your phone or PC, Marketplace is quick and convenient. Lots of things are free, and you can also frequently try before you buy. One-click billing makes checkout a breeze. Pay by credit card or, in some cases, by adding the purchase directly to your phone bill.
From what we can tell, the new OS looks like it is user friendly, and packs a good amount of features. But the question is, will it be able to compete with Android and iOS?
What do you think of Windows Phone 7? Leave a comment below!