Interview: John Haney on his Flashlight app for the iPhone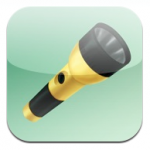 Last week, I had the opportunity to interview John Haney about his Flashlight app for the iPhone.  John's flashlight app was released on the third day of the app store and has continued to be one of the most popular flashlight apps in the app store.  The interview is as follows:
1)      When did the Flashlight App first come out?
Flashlight came out July 13, 2008.  It was the third day of the App Store and very exciting for me.
2)      Why a flashlight app?
I had created an app for Mac OS X called Backdrop, which fills your screen with white (or a color) so you can put windows in front of that for taking screenshots.  It was my most popular app and when the iPhone SDK was announced, I immediately started thinking about what my apps would be like on the iPhone.  Also, I had seen others use their phones in the dark to navigate around and I'd done it myself a few times.  I thought it would be handy to have an app that let you hold the phone with a solid white screen to see where you're going.
3)      Why is yours better than other flashlight apps?
My Flashlight app is customizable.  You can set different colors, use a variety of effects including strobe, hearts, and holiday lights.  To change from one screen to another, just slide left or right.  Flashlight includes red, green, and blue colors by default to make it easy to check your iPhone for bad pixels.
4)      What did you update for this app for the iPhone 4?
For the iPhone 4, I added the ability to turn on the iPhone 4's LED light.  This is extremely bright and makes an awesome Flashlight!  The only downside is that using the LED light does use battery much faster than the traditional screen method.  I have an update coming soon which lets you use the LED light as a strobe light too.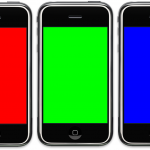 5)      What else are you working on?
I am working on some great updates to my puzzle game, CryptoQuote.  Also, I have an iPad game which has beautiful art that I'm really excited about finishing later this year or early next year.  I have a long list and it's really just a matter of how much time I can squeeze in to work on my apps.
6)      What is your day job?
I am a Senior Systems Engineer at Lextech Global Services (lextech.com).  Lextech makes "serious apps" for companies and government, usually involving iPhone, iPad, Blackberry and/or Android apps.
7)      Anything else you want to tell me about?
I have reached over 54 million downloads of Flashlight.  This is truly incredible and humbling to me to have so many people using my software.  I'm always trying to make better apps and I enjoy getting emails, even though it is a lot to keep up with. 
I am very interested in what John comes up with for the iPad and will have updates here as soon as I get them.  Please check out the free Flashlight app and the CryptoQuote app at the Apple App store.