Win Passes to "Sherlock Holmes" at the St. Louis Advance Screening
ReviewSTL invites you to enter to win passes to the St. Louis advance screening of "Sherlock Holmes"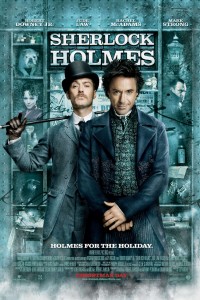 Enter for your chance to win a pass good for two!
OPENS NATIONWIDE FRIDAY, DECEMBER 25TH
Synopsis:
Robert Downey Jr. brings the legendary detective to life as he has never been portrayed before. Jude Law stars as Holmes' trusted colleague, Watson, a doctor and war veteran who is a formidable ally for Sherlock Holmes. Rachel McAdams stars as Irene Adler, the only woman ever to have bested Holmes and who has maintained a tempestuous relationship with the detective. Mark Strong stars as their mysterious new adversary, Blackwood. Kelly Reilly will play Watson's love interest, Mary.
In order to enter the contest, simply leave a comment at the bottom of the page about why you want to see SHERLOCK HOLMES. Winners will be chosen at random and notified via e-mail. NO PURCHASE NECESSARY. Screening is December 21.
Please note that winning passes to "Sherlock Holmes" does not guarantee admission to the film. You must arrive early as seating is first-come, first-served. It is usually safe to arrive at least 1 hour or more before show time!
Good luck! We hope to see you at the movie.