Why It's Good to Be a Cardinals Fan
I'm spoiled.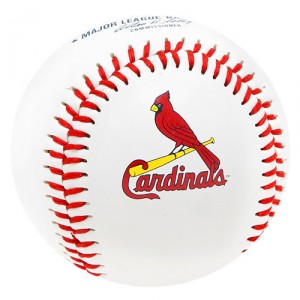 And not just because I have a huge house, six-figure income, and a gorgeous ladyfriend who will cook me bacon any time I ask.
Because I don't have any of those things.
No, I'm spoiled because I'm a Cardinals fan. And if you're reading this, chances are you've been spoiled as well.
You see, we root for a winning team. This team, since 2000, has won 1,205 games and lost 943 for a tidy winning percentage of .561, which would be good enough to win 91 games a year. Only once has the team not been .500 or over in that stretch (2007, when the Cardinals had Adam Kennedy at second base while giving 26 starts to the indomitable Kip Wells).
Those of you who are my age or younger, it's been an incredible run of awesome. It hasn't always been this great, though. Save for one solid season in 1996 and the magic home run chase of '98, the team went through some pretty lean years during the '90s. From 1988 until 1999, the team was 920-956. Now, they weren't awful; none of the teams approached 100 losses (a feat no Cardinals team has accomplished in the last century, thankfully). Still, for a fanbase that's come to expect to compete every year, the last 13 years have to be considered a golden era for the team, along with '26-34, when the team won two World Series in four trips and set the NL record for most runs scored in the live-ball era with 1,004 in 1930; '64-68, when the team won two Series in three trips in five years; and of course '42-46, when the Cardinals went to four World Series in five years and won three of them.
When the Cardinals fired Walt Jocketty, like many fans I was pretty sad. The man helped bring a World Series title to St. Louis. Who couldn't love the MV3 of Albert Pujols, Jim Edmonds, and Scott Rolen? The acquisition of Chris Carpenter? This man was a genius, right?
Well, yes and no. The team replaced him with a more sabermetric-minded gentleman named John Mozeliak, who completely re-tooled the team and its minor league club. Focusing on building its depleted farm club rather than trying to do a quick-fix with expensive veterans, the team slowly built a minor league system that ranked dead last in 2007 to one that is now ranked at the top of the list this season.
Look at the roster. So far, thirty players have played or pitched for the team this season. 23 of them made their major league debut as a Cardinal.
The team can hit. After a relatively slow start, the Cardinals' .266 team average ranks fifth. More importantly, they're scoring runs without depending on the longball. The Cardinals are third in the NL in runs scored per game even though they rank 22nd in slugging.
So how're they doing it? Well, they're eight in the majors in on-base (.329), and they're the best team in the league when hitting with runners on (.315), and they're even better when the runners are in scoring position (.334). On the flip side, the Cardinals' staff owns the best ERA in baseball (3.16) thanks in large part to their starting rotation (2.63).
This is a team that's had the luxury of reloading rather than rebuilding.
Pujols is gone? No worries. Allen Craig has had a torrid May and his average (.312) and on-base (.360) are back in line with his career averages. His slugging is down, but he's still 14th in the majors in RBI (30).
Second base has been a quagmire in recent years? Matt Carpenter has done better than anyone could have expected him to. He's not only hitting (.296/.378/.440), he's playing above-average defense at second base. The plan had originally been for him to hold down second until the arrival of vaunted prospect Kolten Wong, but if he keeps this up, he may establish himself as the starting second baseman.
The outfield has taken its share of criticism at times, but you can't argue that offensively, it's been one of the best. Combined, the Cardinals' outfield has a higher batting average (.280) than the average NL outfield (.261), a higher slugging percentage (.451 to .422), more home runs (20 to 16), and more RBI (82 to 55). What's that? You still don't like them very much? Well, Oscar Taveras is waiting in the wings.
Yadier is, well, Yadier. He leads the team in average (.333) and is still pretty much the best defensive catcher in baseball. His caught stealing percentage is down a bit (38%), but it's likely that's a result of some of the rookie pitchers failing to hold runners at first.
The pitching's where the team depth has really been on display. The Cardinals' rotation boasts the best ERA in the majors (2.63), and they still lead the majors in complete games and shutouts, and they've done it while dealing with injuries. Jake Westbrook may miss more than 15 days on the DL, but rookie John Gast (2-0) has filled in nicely. Gast has thrown shutouts in the first five innings of both his starts before running into trouble in the sixth.
Seth Maness has also been a pleasant surprise addition to the roster; he doesn't throw nearly as hard as Trevor Rosenthal or Carlos Martinez, but his ridiculous control (he's yet to walk anyone in 8.1 innings this year; in the minors, his career walk rate 0f 0.7 per 9 innings is less than half of the legendary Greg Maddux's career 1.8 [yes, I know, you can't really compare the two like that, but it's still interesting to see]) has allowed him to develop into a bright spot for the team. Michael Wacha remains yet another option at Memphis.
In the bullpen, Edward Mujica has comfortably established himself as the closer (13 saves in 13 opportunities, 1.42 ERA, a ridiculous 0.526 WHIP), while Trevor Rosenthal has settled down after a rough start; since April 18, he's given up just one earned run in 13.1 innings while striking out 21.
So yeah. It's good to be a Cardinals fan. Whereas the team in previous years took a more win-now mentality, Mozeliak and company have taken a more resourceful approach. While the team does have some high-priced talent, they're showing the baseball world with a little building and investing, money can't buy everything.
Cardinals' current payroll: $116,790,787
Cardinals' winning percentage: .651
Current payroll of Los Angeles Dodgers, Los Angeles Angels, Toronto Blue Jays, and Philadelphia Phillies: $632,888,050
Combined winning percentage of Los Angeles Dodgers, Los Angeles Angels, Toronto Blue Jays, and Philadelphia Phillies: .416
Coming up, after a 7-3 homestand, the Cardinals head west to face the Padres, Dodgers, and Royals before coming back home.
Fun notes and anecdotes
Kyle Lohse lost all of three games last year. He's lost three games this year to the Cardinals alone.
With Jaime Garcia on the DL for the foreseeable future (it's not out of the question his season is over), the Cardinals have called up yet another rookie, Tyler Lyons. Lyons has made eight starts at Memphis this year, going 2-1 with a 4.47 ERA. Lyons reportedly has a low-90's fastball and a decent curveball. He'll make the start on Wednesday in San Diego. Lyons will be the seventh Cardinals pitcher to start a game this season; last year the team had eight pitchers start games.
This weekend, drove up to the small town of Pekin, Illinois for a wedding. A great time was had by all. On the way back, my friend Beth and I hit up Charlie Parker's Diner in Springfield. It's hard to top a place whose motto is "Eat it and Beat it." If you're ever in the area, I recommend the Breakfast Shoe. It's pretty much just a mound of awesome breakfast food.
I also got to stop by WICS 20, the ABC affiliate in Springfield, and take a tour of the station thanks to my friend Chrissy, who is a weather reporter there. If you're in the area, be sure and check out her weather reports on the weekend. I got to meet a few of the other anchors and reporters, and they were all friendly and are without a doubt top-notch.