What is the Visa 'Black Card' and How Does It Compare to the Amex Centurion?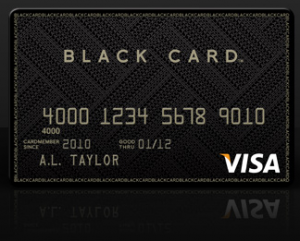 For years now the fabled 'Black Card' from American Express has been sought after by the elite of the elite. Top executives, movie stars, athletes and other high earners have brandished them – and others are left drooling. But this 'Black Card,' officially named the Centurion Card, is not without a price tag. But luckily, there is a much more affordable alternative.
Visa recently released their competitor to the famous credit card, actually named the Black Card™. Compared to the America Express Centurion, which is invitation only and requires an annual $2,500 fee (plus a one-time $5,000 joining fee), the Visa Black Card™ only costs $495 annually. Black Card™ members receive exclusive rewards, 24/7 concierge service, access to VIP airport lounges around the world and luxury gifts from top brands. Plus, the credit card is made out of a cool patent pending carbon material that is sure to get you a double-take or two at the register.
Watch the Visa Black Card commercial below:
[hdplay id=386]
(Above: Apparently, this is what happens when you get a Visa Black Card. You know you want one.)
Here are some of the benefits that the Visa Black Card™ offers:
Global Acceptance

For your convenience, your Black Card is accepted in over 170 countries worldwide.

Trip Interruption/Cancellation Insurance

Receive reimbursement up to $1,500 in the event of qualifying trip cancellation or trip interruption.

Zero Liability

Provides complete protection against unauthorized purchases made with your Black Card.

Travel & Emergency Assistence Services

Rely on Black Card for assistance in coordinating medical, legal and travel services while you are away from home.

Purchase Security

Will replace, repair or reimburse up to a maximum of $500 per claim for eligible items within the first 90 days from the date of purchase.

Baggage Delay Insurance

Black Card will reimburse you for expenses up to $100 per day for three days for the purchase of essential items in the event of baggage delay.

Warranty Manager Service

Includes warranty registration and extended protection, which extends the original manufacturer's warranty up to one additional year.

Auto Rental Collision Damage Waiver

Offers reimbursement at no additional charge for damage due to collision or theft up to the actual value of most rental vehicles.

Lost Luggage

Black Card provides you with complete peace of mind while traveling. Carry-on or checked luggage is covered up to $3,000 per trip if lost or stolen when you purchase your common carrier ticket with your Black Card.

Worldwide Travel Accident Insurance

As a Black Card member, you receive $250,000 worth of insurance coverage for eligible travel. This benefit provides common carrier accidental death or dismemberment coverage at no extra cost.

Trip Delay

Allow Black Card to take the stress out of travel delays. When a trip is delayed more than 12 hours due to a covered  event, expenses incurred as a result of the delay, such as meals and lodging, are reimbursed up to $300 per ticket.

Roadside Dispatch

Black Card protects you when unexpected circumstances occur by providing convenient 24/7 towing and locksmith referral services in the U.S. and Canada.
Overall, the Visa Black Card™ is a great alternative to the American Express Centurion card, and offers great rewards and incentives for people who travel. The credit card is very unique, and offers VIP access and intrigue at a price that is affordable by almost anyone. Click here to apply for the Visa Black Card™.
BLACKCARD is a registered trademark. BLACK and BLACK CARD family of marks are trademarks of Black Card LLC. Copyright © 2007–2011. Patent Pending. Visa Black Card is issued by Barclays Bank Delaware. All rights reserved. Membership is limited. See Terms and Conditions and Privacy Policy.
1Offer subject to credit approval. This offer is available to new Cardmembers only. For information about rates, fees, the Annual Fee, other costs and the rewards program rules (including accrual rate, awards, etc.) and benefits associated with the use of this credit card program please see the Terms and Conditions.