'Welcome to the Punch' Trailer and Poster (James McAvoy and Mark Strong)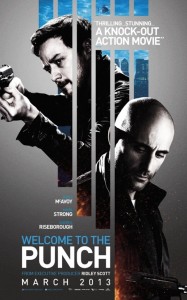 Not sure how much the trailer is giving away, but it looks like James McAvoy's cop, and Mark Strong's criminal in Welcome to the Punch will end up working together. Looks like a great action thriller, with a bit of British flare. The script was voted as one of Britain's best unproduced scripts in 2010. Can it live up to the hype of the script? Both McAvoy and Strong are solid actors who tend to outshine others in whatever film they appear in. The executive producer stamp of approval might have meant something more had Ridley Scott produced better films over the past decade. This one is a wait and see film, but it's moved up near the top of action thrillers I want to see.
Synopsis:
Ex-criminal Jacob Sternwood is forced to return to London when his son is involved in a heist gone wrong. This gives his nemesis, detective Max Lewinsky, one last chance to catch the man he's always been after.
Cast:  James McAvoy, Mark Strong, Andrea Riseborough
Director: Eran Creevy
Release Date: March 27, 2013