New 'Turbo' Trailer and Poster (Ryan Reynolds, Snoop Dogg, Paul Giamatti)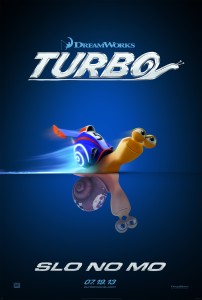 Dreamworks Animation has come along way over the past two decades.  It took them a few years to find commercial success, but when they did, they took off.  Since then they've had hit series like Shrek, Madagascar, Kung Fu Panda, and How to Train Your Dragon. Not a bad run, right? Sure there are some critically questionable films in their history, but more often than not they score hits.  Unfortunately, they seem to be a step behind Disney/Pixar as evidenced by the trailer for Turbo.  The film comes off as Cars rehash with a twist. That might not matter, as the subject material is sure to be a hit with children, and adults will love all the big names doing the voices. I mean, how often do you get to see a children's animated feature where Snoop Dogg voices a major character?
Synopsis:
From the makers of Madagascar and Kung Fu Panda, Turbo is a high-velocity 3D comedy about an underdog snail who kicks into overdrive when he miraculously attains the power of super-speed. But after making fast friends with a crew of streetwise, tricked-out es-car-goes, Turbo learns that no one succeeds on their own. So he puts his heart and shell on the line to help his pals achieve their dreams, before Turbo-charging his own impossible dream: winning the Indy 500.
Cast: Ryan Reynolds, Paul Giamatti, Michael Pena, Luis Guzmán, Bill Hader, Richard Jenkins, Ken Jeong, Michelle Rodriguez, Maya Rudolph, Ben Schwartz, Kurtwood Smith, Snoop Dogg, Samuel L. Jackson
Director: David Soren
Release Date: July 19, 2013