'Admission' Opens March 22! Enter to Win Passes to the St. Louis Advance Screening!
Enter to win a pass for two!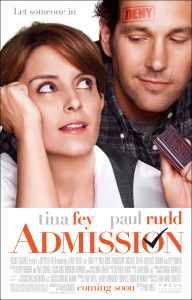 Tina Fey (Date Night, 30 Rock) & Paul Rudd (I Love You Man, Knocked Up) star in Admission, the new film directed by Academy Award nominee Paul Weitz (About a Boy), about the surprising detours we encounter on the road to happiness. Straight-laced Princeton University admissions officer Portia Nathan (Fey) is caught off-guard when she makes a recruiting visit to an alternative high school overseen by her former college classmate, the free-wheeling John Pressman (Rudd). Pressman has surmised that Jeremiah (Nat Wolff), his gifted yet very unconventional student, might well be the son that Portia secretly gave up for adoption many years ago. Soon, Portia finds herself bending the rules for Jeremiah, putting at risk the life she thought she always wanted–but in the process finding her way to a surprising and exhilarating life and romance she never dreamed of having.
CAST: Tina Fey, Paul Rudd, Michael Sheen, Wallace Shawn, Gloria Reuben, Nat Wolff, Lily Tomlin
DIRECTED BY: Paul Weitz
In order to enter the contest, "like" ReviewSTL on Facebook . Then comment on the official contest page below, telling us why you can't wait to see the movie! While supplies last. Passes are available on a first-come, first-served basis.
Winners will be chosen at random from all entries. Supplies are limited. Limit one (1) pass per person, passes admit (2) two. Sponsor's employees and their dependants are ineligible. Screening is overbooked to ensure capacity. Please refer to passes for any other possible restrictions. NO PURCHASE NECESSARY.
Screening will take place Thursday, March 21 at AMC Creve Coeur 12 (7pm).