Weekly T.V. Recap / Cut List: 10-17 through 10-23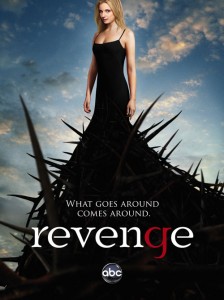 On a week to week basis the shows on Television continue to have more ups and downs than most elevators.
The sitcoms are the most consistent out of all the shows that are on, but this season isn't much better that last season was in general. I've fully admitted that I'm only watching new Dramas because I really don't have ties to any of the continuing Dramas. I don't see that many of the new Dramas comparing to last seasons hits like Blue Bloods and Hawaii Five-O when it comes to ratings. Really the only new shows doing great (ratings-wise) are Unforgettable and Person of Interest, which are two shows that CBS is still debating cancelling.
I mean this season I haven't found as many new shows that stand out from the pack as much as shows have in past seasons, and it seems like the shows I really get into get cancelled early (Playboy Club made it this season). Honestly, I don't see this season improving much with the shows that are scheduled to come out like ABC's Missing, Scandal, and The River, or NBC's Smash and Awake. I do think that FOX's Alcatraz and The Finder are both showing the most potential of the shows that are slated for mid-season debuts. Really there are only two new Drama's which I personally think stand out from the rest and they are ABC's Revenge and the CW's The Secret Circle.
Weekly Recap
So now I think I can officially get off my "soap box" and get to the past week in Network Television.
When it came to Comedies- this week was really nothing special to me. Big Bang Theory featured the return of Sheldon's mother, which led to some very funny times, but other than that this past week was really nothing special. I felt like How I Met Your Mother had their best episode since the season premiere, Modern Family and Happy Endings, and all the normal favorites had their normal levels of funniness.
A lot of the Sitcoms (Community, Parks and Rec, Whitney, and The Office) aired repeats and The New Girl, The Simpsons and Raising Hope all didn't even air episodes because of Playoff Baseball and The X-Factor, so that affected the Week of Comedy as a whole.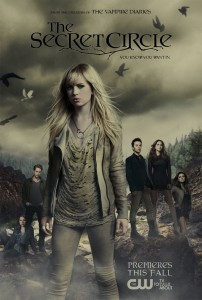 In the world of Drama- it was another good week for Revenge and The Secret Circle, and another subpar week for all the other New Dramas I've been reviewing.  When it comes to Person of Interest and Unforgettable- they just seem to be getting to repetitive for my own personal liking. As for Pan Am and A Gifted Man- they are both very slow paced shows and I keep on waiting to be impressed by them but it's really not happening. Terra Nova is one of the shows which I think shows the most promise as I am starting to like it more and more each week…if they can only get away from it "campiness".
So, here is why I think Revenge and The Secret Circle are the two best new Dramas on Television. I'm a big fan of the story that a show gives, and these two are the only two shows that are presenting a story that is appealing from week to week. I also look for a plot that is original and they are both offering that as well (Terra Nova's close). I also think that a lot of the story is based off of the characters and I don't see characters like John Reese and Harold Finch (Person of Interest) or Carrie Wells and Al Burns (Unforgettable) really having enough chemistry to keep my attention, and not to mention, I am still a little freaked out by the relationship between Michael Holt and his dead wife Anna Paul (A Gifted Man)…I won't even mention the awkwardness of the characters on Pan Am. So, to break this down I think that for a show to be successful it needs three things: a compelling story, originality, and good characters. Which brings me to the premiere of ABC's Once Upon A Time.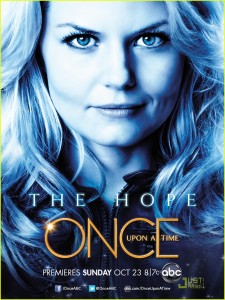 Once Upon A Time is a story of how  Fairy Tales have been turned into Reality with a spell that the Evil Queen as set on an entire kingdom, and it's up to one girl, Emma Swan, to break the spell. The "Pilot" introduced us to Mary Margaret Blanchard (Snow White), Reginna Mills (Evil Queen), Mr. Gold (Rumplestilltskin), John Doe (Prince Charming), The Seven Dwarfs, Red Riding Hood, and Geppetto with Pinocchio. Honestly, if you are a fan of the classic Fairy Tales then this is definitely a show that you will like. I personally grew up on these Fairy Tales through the mind of Walt Disney and Once Upon A Time has thrown a twist into the tales that makes it relevant for today's culture. I am looking forward to see where this show will progress over this season and if they can stay somewhat true to the stories that they are based off of.
In the field of Reality- It was a very good week for both of the shows that I am watching. Amazing Race had arguably the best episode of the season with the most competitive race I've seen this year. Survivor had a somewhat down week after what I thought was the best episode of the season in the previous week. All in all both of the Reality Shows that I watch have been very good this season.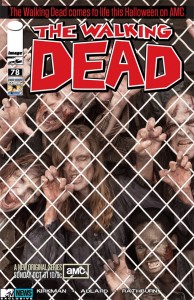 When it comes to Cable Television it's really a tale of two shows for me personally and they are The Walking Dead and American Horror Story.
I think everyone is aware that The Walking Dead is one of the best shows on Television, and the first two weeks back that statement with a vengeance. In the first two weeks we have seen both of the groups children get affected by the Zombie Apocalypse, with Sophia coming up missing after running from a Walker and Carl being shot when gazing upon a deer in the forest (while searching for Sophia). We've also learned that Shane and Andrea are planning to go away from the group at some point very soon. Other than those two occurrences there hasn't been much else that has been revealed at this stage in the season. The Walkers have made a few appearances so far but no one has died because of this. Andrea has been attacked twice so far, so I don't know if they're leading up to her being turned (like her sister) or if they are going to go in a different direction. I am also curious as to how the Green family will play into our leading group as Dr Green continues with his attempt to heal Carl, after son-in-law Otis' handwork (He shot Carl). They left us with Shane and Otis on the run from Walkers as they are on a journey for medical supplies.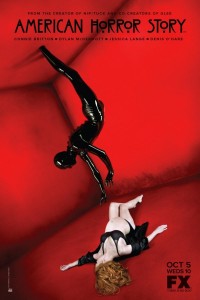 Another show that I am really starting to get into is FX's American Horror Story, which follows the Harmon family on their adventure from Boston to L.A., after the husband is caught cheating on his wife. When arriving in LA they receive a killer deal on a house. They soon learn that the house they are in has quite the history…and not a good one at that. There have been multiple murders, a serial killers "masterpiece", and a ton of other things over the years. Not to mention that presence that the house presents and the ghost that are widely present around the house. All I can say is….STAY OUT OF THE BASEMENT! If you are a true fan of Horror then this is definitely the show for you. This week should be an even scarier episode as they start their two part episode that is solely based around Halloween.
The "Cut" List
The field of Drama seen some major changes as Unforgettable, Person of Interest, and Pan Am all suffered their first losses

Comedy saw changes throughout as Community, New Girl, Parks and Rec, Whitney, The Office, Raising Hope, and The Simpsons all had off weeks that opened up their spots on the list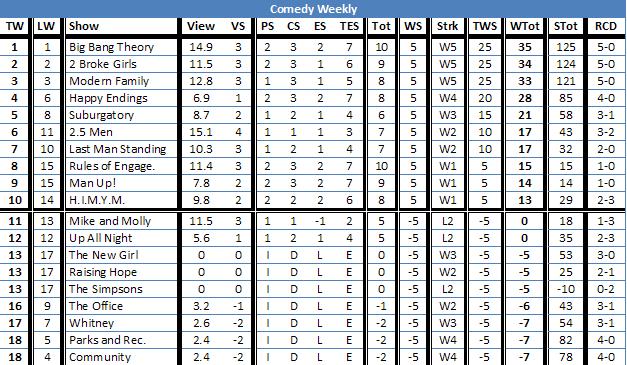 Reality saw the see-saw go in favor of The Amazing Race this week

No Major changes on the Overall List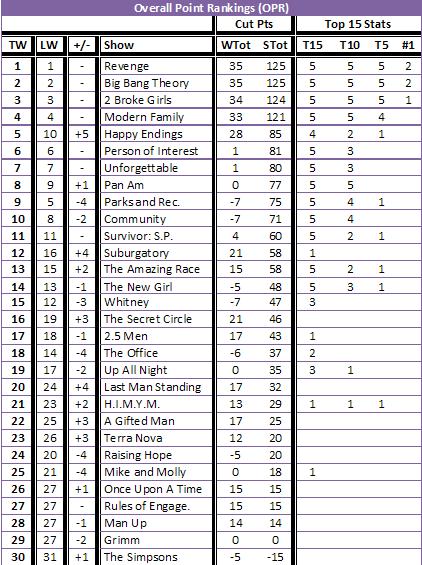 No major changes to the Quality Points List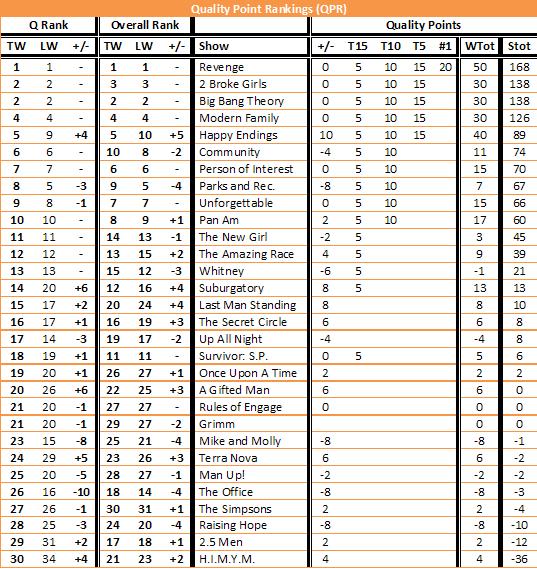 No major changes to My Personal List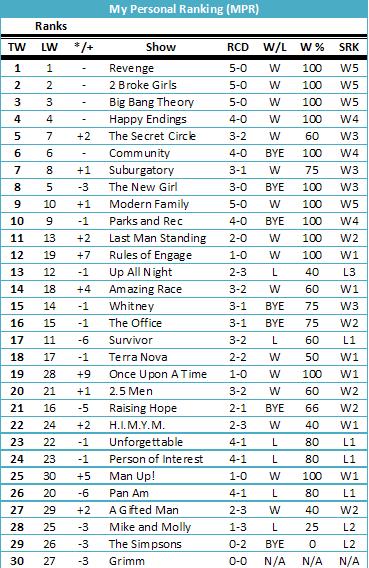 No Major changes in the Power Rankings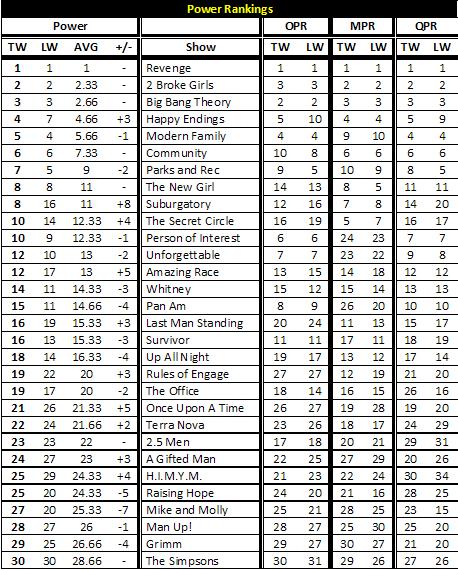 Here's the list of the shows that have been Cut