Weekly T.V. Recap: 3/11 through 3/17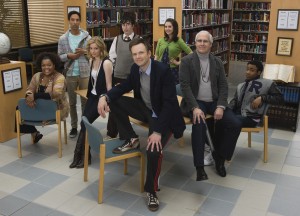 This was a rather slow week with a lot of reruns so there are only a few things to talk about. It also gives me a chance to geek out and do the number crunching thing with the new shows so you guys have that to look forward to at the end of this. But for now lets get to the business at hand, which was this week in television.
First off, I've always been a fan of "Community" and NBC had it on hiatus since December.  However, this past Thursday "Community" returned with flying colors, with a wedding and Troy and Abed becoming normal. I'll fully admit I was rather creeped out by them in the normal state of mind, but it was something new to add to the show. We also found out that Pierce and Shirley are planning to go into business together. One of the most shocking things was Britta's ability to plan weddings, being that she was one hundred percent against ever getting married.
Also returning this week was my own personal addiction "The Secret Circle" (the fact that I admitted that just killed me a little inside). This week brought about an attempted murder of the widely hated John Blackwell by the very shady Ethan Conant. Cassie ran into a huge obstacle because Ethan is the father of her "boyfriend" Adam and she doesn't want to tell Adam that she thinks Ethan has it out for her father, John Blackwell. Along with that we found that Diana has a new love interest and Faye and Lee finally let all the tension between them unwind but not before we found out that Lee's "Ex-Girlfriend" is still very much in the picture.
Next, we can examine "The Walking Dead". With the death of Dale last week it was kind of difficult to see where the show was going to go from here and they took it to another level when Shane decide to go against the group. He frees the prisoner from their camp and attempts to follow him. This only leads to a final battle between Shane and Rick in which Shane is killed making him the second death in as many weeks. The world only knows what will come from the season finale this week…actually Tonight!
Other than those few shows nothing else was really all that great. "Once Upon A Time" had one of their weaker episodes to this point, "New Girl" and "Raising Hope" were just as funny as always, "Surburgatory" came back with a strong episode, and all the other sitcoms "30 Rock", "Modern Family", "Happy Endings", "The Office", and "Up All Night" were really not all that impressive.
Now its time for me to hit you with some numbers from the New Shows.
So far this season there have been twelve shows that have been cancelled (out of the thirty-nine that hit Network Television). There are also eight other shows that are on the verge of cancellation. I counted eleven shows that I feel are "Safe" from cancellation (based off of their ratings), and finally there are nine shows that are in the middle between being cancelled and renewed. Here's a look at how I've broke it down.
2011-12 TOTALS
FOX- 8 Shows – 1 Safe (12.5%) / 2 Cancelled (25%) / 3 Likely (37.5%) / 1 Toss Up (12.5%) / 1 Unknown (12.5%)
ABC- 12 Shows- 4 Safe (33%) / 4 Cancelled (33%) / 1 Likely (8%) / 3 Unknown (25%)
NBC- 10 Shows – 3 Safe (30%) / 4 Cancelled (40%) / 1 Likely (10%) / 2 Toss Ups (20%)
CBS- 6 Shows – 2 Safe (33%) / 1 Cancelled (17%) / 2 Likely (33%) / 1 Toss Up (17%)
CW- 3 Shows – 1 Safe (33%) / 1 Likely (33%) / 1 Toss Up (33%)
TOTAL- 39 New Shows – 11 Safe (28%) / 12 Cancelled (31%) / 8 Likely (20%) / 5 Toss up (13%) / 4 Unknown (10%)
If the numbers play out like this (with the likely cancellations added) then that means that 51% of the new shows from this season were cancelled. Normally I'd say that's a bad number but if you compare it to last season then that number is a dramatic improvement from the 75% that went last season. Actually this season has been much better than last with the quality of programming that it has put out. Here's a look at the numbers from last season with the possible cancellations from this season included.
2010-11 TOTALS
FOX- 6 Shows – 4 Cancelled / 2 Toss Ups (Bob's Burgers and Raising Hope)
ABC- 9 Shows – 7 Cancelled / 1 Safe / 1 Likely (Body of Proof)
NBC- 12 Shows – 11 Cancelled / 1 Likely (Harrys Law)
CBS- 6 Shows – 3 Cancelled / 3 Safe  (Blue Bloods, Hawaii 5-0, Mike & Molly)
CW-  2 Shows – 1 Cancelled / 1 Likely (Nikita)
TOTALS- 35 Shows / 26 Cancelled / 4 Safe / 3 Likely / 2 Toss Ups
If I still have your attention (I know not everyone's a numbers geek) then here is some information about each individual network and how they rank in my eyes (I'll go from worst to first)
NBC
NBC has disappointed me the most this season and that is mainly because of how they cancelled "The Playboy Club" after just four episodes. NBC always disappoints me because they seem to cancel shows before they give them a legitimate shot at being successful. This season I just haven't been impressed by very much of what NBC has had to offer. I haven't seen all the shows they have offered this season (Awake and The Firm being the only ones I've missed) but what I have seen hasn't really blown me out of the water. "Up All Night" and "Whitney" are definitely watchable sitcoms, "Smash" has been surprisingly really good, and "Grimm" has been outdone (in my eyes) by ABC's fairytale based "Once Upon A Time". The other new shows like "Are You There Chelsea", "Free Agents", "Prime Suspects" have really just been rather unwatchable. Basically all of the shows that NBC has kept this season (side from "Smash") are shows that I won't miss once they have run their course.
Here's how all the shows breakdown in my eyes
Grimm- Safe (Renewed)
Up All Night- Safe
Smash- Safe
Whitney- Toss Up
Awake- Toss Up
Are You There Chelsea?- Likely
Free Agents- Cancelled
The Playboy Club- Cancelled
Prime Suspects- Cancelled
The Firm- Cancelled
10 Shows – 3 Safe (30%) / 4 Cancelled (40%) / 1 Likely (10%) / 2 Toss Ups (20%)
FOX
FOX comes up next towards the bottom of the list because I haven't been overly impressed by any of the shows that they have offered this season (other than "New Girl"). FOX usually falls into the same boat as NBC in the way that they usually cancel their shows before they get the chance to run their course.  However, this season (other than with the horrid "Allen Gregory") FOX has actually let their shows get a good run and the only other show they have pulled the plug on so far has been "Terra Nova" (which they let finish its first season). I feel like "Alcatraz" has the potential to be one of the best shows on television but there is just something that is missing from the show. I'm not saying it's a bad show but it could be so much better. I have been impressed by "The Finder" but everyone else seems to not be watching it so chances are that it will be cancelled. Really the only show I see coming back next season is "New Girl", which has lived up to all the expectations that I had for it.
Here's how I broke down the new FOX lineup
New Girl- Safe
Napoleon Dynamite- Toss up
Touch- Unknown
Alcatraz- Likely
The Finder- Likely
I Hate My Teenage Daughter- Likely
Allen Gregory- Cancelled
Terra Nova- Cancelled
8 Shows – 1 Safe (12.5%) / 2 Cancellations (25%) / 3 Likely (37.5%) / 1 Toss Up (12.5%) / 1 Unknown (12.5%)
CW
The CW had the smallest number of additions to their lineup but I would still say that the product they have put out has been significantly better than NBC's lineup and about even with FOX's lineup. The CW had less than half as many new scripted shows air as FOX and I still feel like they will end with as many returning next season (which is one). I've always liked the way that the CW treats their shows and this season has been no different. I've been aware that "Ringer" is getting cancelled for almost six months now but yet the CW keeps airing new episode. That's the type of thing that helps them and hurts them. Another thing that hurts them is that they have one less hour of programming that they air because of local news (FOX is the same way). Getting back on topic, I feel like "Hart of Dixie" just hasn't gotten enough of a following for the CW to bring it back next season. The big thing I've been impressed by has been "The Secret Circle". I'm surprised I've enjoyed this show this much because I am about five years removed from their target audience. I think the writing has been very original and the acting has been very impressive as well. I am fully aware that this show is about witches and that's the type a thing that a guy shouldn't be watching but this show has had me intrigued from the start.
Here's how the CW is broken down
The Secret Circle- Safe
Hart of Dixie- Toss Up
Ringer- Likely
3 Shows – 1 Safe (33%) / 1 Likely (33%) / 1 Toss Up (33%)
CBS
CBS will always be towards the top of successful networks and this season has been nothing short of impressive. "How To Be A Gentleman" has been the only bad show that I have seen on CBS in I don't even know how long, but every network is entitled to their share of failures. This season I haven't been completely blown away by any of their new shows but I have also enjoyed the better majority of them. I'll admit that I'm not huge on "Cop Shows" but "Unforgettable" and "Person of Interest" have both been very well written and two of this season's best new shows. I personally have been more impressed by "Unforgettable" but then again my vote really doesn't matter in the long run. I honestly feel like the two shows ("Unforgettable" and "A Gifted Man") that are in danger are only in danger because CBS is preparing for the new shows that are coming next season. If they were on any other network I think they would be safe from being cancelled. "2 Broke Girls" is still one of my favorite new comedies on television and it is one of those shows that has seemed to just get better and better as the season has progresses
Here's how I broke CBS down
2 Broke Girls- Safe (Renewed)
Person of Interest- Safe (Renewed)
Rob- Toss Up
A Gifted Man- Likely
Unforgettable- Likely
How To Be A Gentleman- Cancelled
6 Shows – 2 Safe (33%) / 1 Cancelled (17%) / 2 Likely (33%) / 1 Toss Up (17%)
ABC
This season I have been most impressed by ABC. They have had their share of failures ("Charlies Angels" and "Work It" most notably) but they have put out the best quality of programming this season (in my eyes). I didn't expect much of anything out of "Suburgatory" but it has been surprisingly good. "Last Man Standing" has been very similar, in that I had low expectations for it but it has also pulled through with flying colors. I even enjoyed the since canceled "Man Up" but I understand why it was cancelled was because of the ratings drop following "Last Man Standing" and ABC also needed to find a home for "Cougar Town". When it comes to the Drama's, I was sad to see "Pan Am" go but there have been enough good shows aired to make up for the loss of "Pan Am". The first of which is "Once Upon A Time" which has been one of my favorite shows from this season. It has taken popular fairy tale stories and put their own twist to them and I have really liked how they have done that. "Revenge" has been far and away my favorite show from this season. It has kept me on the edge of my seat from the first five minutes of the show and there are so many questions that have been answered and so many more that I need answered. It is the show that I look the most forward to from week to week.
Here's how ABC got broken down
Last Man Standing- Safe
Suburgatory- Safe
Revenge- Safe
Once Upon A Time- Safe
Don Trust the B in Apartment 23- Unknown
Missing- Unknown
GCB- Unknown
The River- Likely
Man Up- Cancelled
Work It- Cancelled
Pan Am- Cancelled
Charlies Angels- Cancelled
12 Shows- 4 Safe (33%) / 4 Cancelled (33%) / 1 Likely (8%) / 3 Unknown (25%)
Some of the things you can look forward to in the coming weeks are the return of "Revenge", the season finale of "The Walking Dead" and the return of both "Mad Men" and, my personal favorite AMC show, "The Killing"