Madagascar 3: Europe's Most Wanted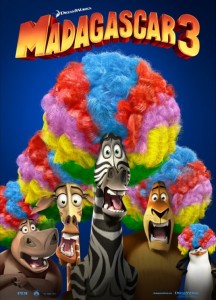 Synopsis:  Alex, Marty, Gloria and Melman are still fighting to get home to their beloved Big Apple. Their journey takes them through Europe where they find the perfect cover: a traveling circus, which they reinvent – Madagascar style.
Starring:  Ben Stiller, Jada Pinkett Smith, Chris Rock, Sacha Baron Cohen
Directed By:  Eric Darnell, Tom McGrath, Conrad Vernon
Genre:  Animation, Adventure, Comedy
Release Date:  June 8, 2012
My Take:  I have not seen a single film from this franchise.  It just never appealed to me.  That being said, this trailer does not make me want to track down the other two so that I can see this in theaters.  I also hate the fact that LMFAO is in this trailer.
[hdplay id=444 width=595 height=375]