Abraham Lincoln: Vampire Hunter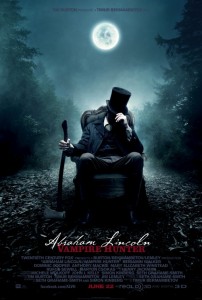 Synopsis:  Abraham Lincoln, the 16th President of the United States, discovers vampires are planning to take over the United States. He makes it his mission to eliminate them.
Starring:  Benjamin Walker, Rufus Sewell, Dominic Cooper
Directed By:  Timur Bekmambetov
Genre:  Fantasy, Horror, Thriller
Release Date:  June 22, 2012
My Take:  Bekmambetov has certainly demonstrated that he has an eye for the visuals.  "Wanted", "Night Watch", and "Day Watch"  were all great films to watch.  Many have complained that he does not have much substance to his films though.  I have really enjoyed everything that he has done thus far and am looking forward to this.  It has a great look with some set pieces that could potentially be truly stunning.  I am anticipating a film that will entertain you for two hours.  Nothing more.  And I am completely okay with that.
[hdplay id=442 width=595 height=375]