Snow White & The Huntsman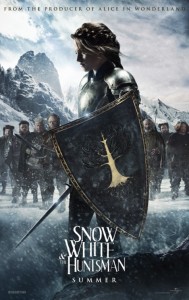 Synopsis:  In a twist to the fairy tale, the Huntsman ordered to take Snow White into the woods to be killed winds up becoming her protector and mentor in a quest to vanquish the Evil Queen.
Starring:  Kristen Stewart, Chris Hemsworth, Charlize Theron
Directed By:  Rupert Sanders
Genre:  Action, Adventure, Drama
Release Date:  June 1, 2012
My Take:  I never would have thought I would say this at the beginning of the year, but "Snow White & The Huntsman" just became one of my most anticipated films of the summer.  While I am not a fan of Stewart, I love Theron and what she is doing here.  She looks absolutely evil and in the best way possible.  There are some awesome effects in this new trailer that range from creepy to bad ass to beautiful.  It all works for me.  This is going to be a huge summer for all three stars.
[hdplay id=443 width=595 height=375]