Prometheus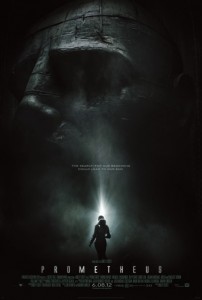 Synopsis:  A team of explorers discover a clue to the origins of mankind on Earth, leading them on a journey to the darkest corners of the universe. There, they must fight a terrifying battle to save the future of the human race.
Starring:  Noomi Rapace, Charlize Theron, Michael Fassbender, Idris Elba, Patrick Wilson, Guy Pearce
Directed By:  Ridley Scott
Genre:  Action, Horro, Sci-Fi
Release Date:  June 8, 2012
My Take:  I watched this for the first time, and then quickly went to change my shorts since I had soiled myself.  I then proceeded to watch the thing another four times.  Easily one of the most beautiful trailers I have seen visually.  The music and sound effects work perfectly.  The editing creates building tension throughout.  This is the best trailer I have seen in a long time.  I anticipate we will get a new "The Dark Knight Rises" one at the end of the month though so my new favorite trailer might be that.  I will be watching this everyday until then.
[hdplay id=441 width=595 height=375]