Weekly Gleek Report "Sexy" with Guest Star Gwyneth Paltrow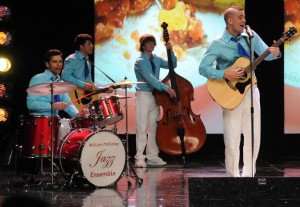 After a week off, Glee returned tonight to teach us about sex. Substitute teacher Holly Holliday (Paltrow) returns to McKinley High after the sex-ed teacher got a bad case of the "herps". All in all, I gotta say this episode about sex was actually kind of…boring.
Tonight's episode primarily involved the glee kids' feelings and attitudes towards sex. Brittany thought she was pregnant because a "stork" landed on her garage, Puck and Lauren wanted to make a sex tape and Quinn and Rachel fought to maintain their celibacy. In many respects this episode was actually better than most. More insight was gained into the characters, the story was advanced, the music was enjoyable, but it all felt somewhat "by the numbers"; even the so called revelation of Santana's character seemed like a cop-out.
It seems that Glee is doing in its second season what most other shows wait years to do…and that's become preachy. Far be it from me to denounce the value of honest sexual education or the plight of teenage drinking, but as entertainment, I don't find myself watching PSA's for fun. It didn't work for M*A*S*H or Roseanne and I don't think it will work for Glee.
Maybe the Kool-Aid is just wearing off, but I'm really hoping Glee will return to form next week for Regionals. They are set to debut their original songs and will undoubtedly bring out the big guns for this mile marker of the season.
What did you think of tonight's episode? Let us know below.