Weekly Gleek Report: "I Am Unicorn" w/ Idina Menzel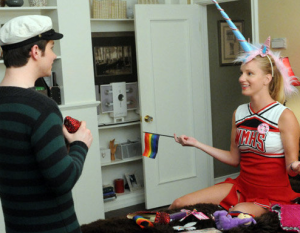 Thankfully story still reigns supreme this week as the Glee kids audition for the upcoming production of West Side Story. However it also seems that Ryan Murphy may overestimate his fans' appreciation for show tunes, evidenced by this week's song list. (Let us know in the comments section below if you disagree, I don't think anybody will)
This week opens with Mr. Schue's declaration that he will step down from the role of theater director. He elects Artie to take the helm and supports him with Miss Pillsbury and Coach Beiste as assistant directors. In an attempt to double his efforts at winning Nationals, Mr. Schue starts a "Booty Camp" to help the lesser dancers in glee club improve their technique.
Meanwhile, Brittany helps Kurt start a fabulous gay campaign for Student Council president and Quinn struggles to reconcile her feelings about giving her baby up for adoption to Shelby Corcoran (Idina Menzel).
With more dramatic themes comes the ability to gauge the talents of these actors. There are several moments in this episode where the cast truly shines. Idina Menzel is perhaps the best actor on set, she is able to convey a vast range of emotion with the utmost ease. The same cannot be said for some of the other scenes in the episode. While both are typically very talented, Matthew Morrison's (Mr. Schuester) "acting" is very apparent in a scene where he tells off Quinn and early in the episode, Heather Morris struggles with her ability to spout more than one-liners. In all fairness, the dialogue these characters are given is less than desirable. Mr. Schuester's rant is somewhat out of character and it's understandably difficult to broaden the narrow range that Brittany's character is given.
The worst example of acting out of character is evident in Kurt's second audition for the lead role of Tony in West Side Story; not by Kurt, but by his evaluators. Artie, Emma and Coach Beiste laugh almost uncontrollably as Kurt completely changes his persona and actually pulls off a very "straight" role. It's neither clear why the panel of directors would see Kurt's performance as unacceptable or why the writers would make what are typically very supportive characters so cruel.
It should also be noted that Chris Colfer can twirl the shit out of some Sai.
What did you think of the episode? Let us know below.