St. Louis Cardinals: 90 Wins Down, 11 To Go
Dear St. Louis Cardinals,
Sometimes, there just aren't words.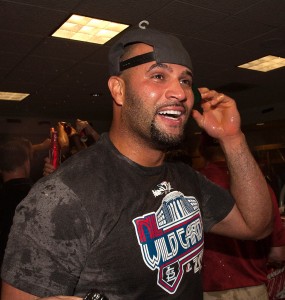 This season has had more bounces than Brooke Burke on a trampoline. I've been perpetually frustrated and elated because of you, often within the same evening.
Lance Berkman, I grew to dislike you for ten years. When I heard the Cardinals signed you in the off-season, I was uncertain whether it was a wise move.
Adam Wainwright, when you went down, I feared for the season. It's hard to replace 20 wins and a 2.50 ERA.

Albert Pujols, when you got off to your slow start, I kept my faith, but the doubt started to creep in.
You guys didn't want to make it easy on us, did you? You managed to put together the best offense in the National League, but you tempered it with inconsistent play. Routine plays became acts of wonder. At times, it seemed your baserunning was on par with a race for the directionally impaired. Saves? Those would just make winning easy.
At times, I was exasperated. You lost seven in a row and eight of eleven at one point. The so-called experts dismissed this season as over. Fans were already looking to next season and wondering who would be manning first base in 2012. The proclaimed centerfielder of the future was traded to Toronto for pitchers everyone deemed to be bit parts. Everyone was ready to move on.
Everyone except you, and for that I thank you.
Baseball's a funny game. You could watch the sport your entire life and see things that have never happened before, nor will they ever again. Mediocre players rise to the top when the game is on the line and become heroes for a day. Teams that have a payroll 1/4 of the top teams manage to overcome the financial juggernauts from time to time.
Something funny happened along the way. You forgot that the season was over. Albert, you put this team on your shoulders the second half. You missed time with a broken bone in your wrist, but you still managed to hit .319 with 19 HR and 49 RBI in 69 games after the All-Star break. Lance, you may not have hit for as much power after June, but you hit for a higher average and got on base at a better rate. Without you, this season would not have come to fruition, and I am glad I was wrong. This team, unlike other teams in years past, was not just a stars and scrubs outfit. Combined, this team scored more runs, got more hits, got on base more, and slugged better than last year's outfit.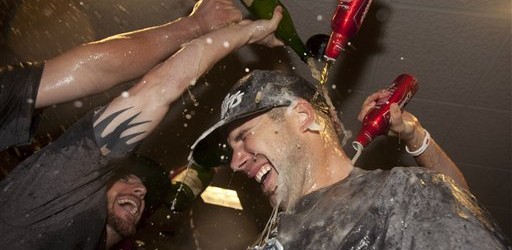 To the boys in the rotation, you guys deserve far more credit than anyone's willing to give you. Minus Wainwright, with Chris Carpenter having a rough first half, the other guys in the rotation, Kyle Lohse, Jake Westbrook, Kyle McClellan, and Edwin Jackson, stepped up. In 2010, with Waino and Carpenter winning 36 games, the Cardinals won 86 games. In 2011, those two combined for 11 wins, and the team won 90.
The bullpen was much maligned in the first half, but you guys settled dow as the season went on. Acquired in the trade for Rasmus, Mark Rzepczynski and Octavio Dotel both helped stabilize the bullpen. Jason Motte had a breakthrough year, and Eduardo Sanchez and Fernando Salas proved to be key assets.
As I sat there last night watching the Wednesday Night Wonder, I couldn't even say anything. Other than when you won the 2006 World Series, that may have legitimately been the most amazing evening of baseball I've ever witnessed. Once Philadelphia tied the game in the top of the 9th, I couldn't help but feel the playoffs were our destiny. Baltimore trailing Boston 3-2 but suddenly getting a rain delay so that their game would end within minutes of the Yankees/Rays game, both incredible walk-off wins? How was that NOT in the baseball gods' plans?
Down 10.5 on August 25. Down 8.5 on September 5. You wouldn't go away.
Despite the heartbreak of late-inning losses, despite the agony of fundamental miscues, you showed Major League Baseball that determination may well be the fifth force of the universe.
Whether you make it to the World Series or not, I can't consider this season anything but a success. This is a season to be proud of, and I thank you for that.
Still, another title wouldn't hurt.
My buddy Dan pointed it out, 11 wins to the 11th championship in '11. You're considered underdogs, but then again, you've been here before.
90. 11.
Sincerely,
A Cardinals fan