Weekly Gleek Report – "Furt" w/ Guest Star Carol Burnett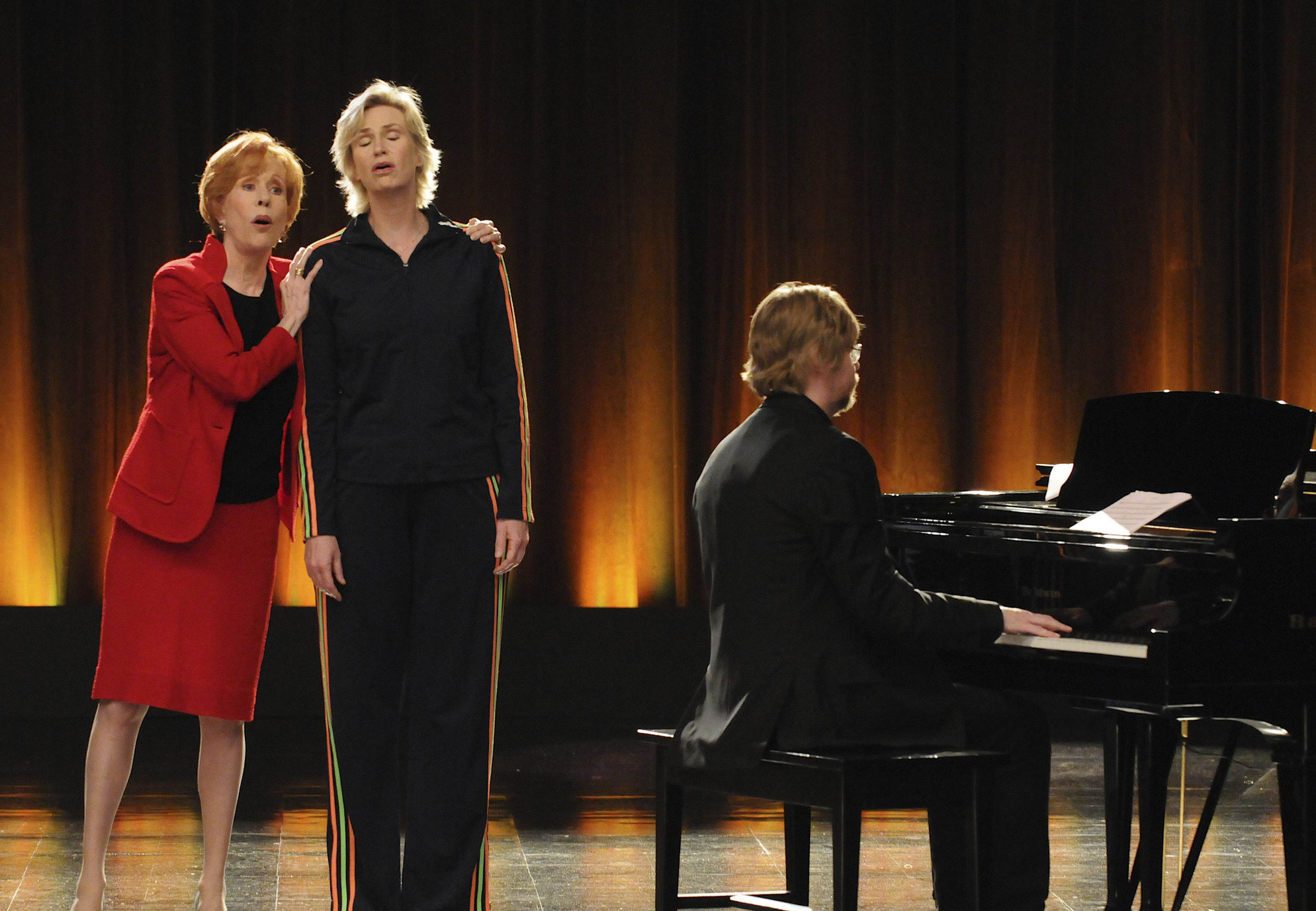 Answer: Underwhelming.
Question: What word best describes tonight's episode of Glee?
Tonight Glee had so much going for it…two weddings, a hefty dose of time with Sue, a decent message about bullying and Carol-freaking-Burnett and yet it was the worst possible thing any piece of entertainment can be…boring.
Allow me to set the stage with an abrupt Glee style recap. Kurt's dad Burt and Finn's mom Carol announce their plans to get married. Kurt is thrilled with the idea of planning their wedding but Finn is more reluctant. Kurt is still getting bullied by the closeted football player and Sue joins an online dating site, but discovers the only other person that enjoys "extreme taxidermy, tantric yelling and poking the elderly with hidden pins…" is "27 year-old" Sue Sylvester.
Even with all this going on, the episode still seemed to lack something. Maybe it was the fact that the audience had to wait over twenty minutes for the first song of the episode ("Ohio" from the 1953 musical "Wonderful Town") or maybe it was how out of the four songs performed, three were relatively obscure, Bruno Mars' "Just the Way You Are" being the most recognizable. The other two songs being Dean Martin/Michael Buble's "Sway" and Bruno Mars' "Marry You". In general the songs did lack interest, but what suffered even more was the story. Glee's writers seem increasingly incapable of forming a coherent story. For example, how does the proposal, engagement, wedding planning and wedding of Finn and Kurt's parents all take place within the confines of one episode's timeline? You may say this is merely a convention of television reality, but I feel there is a line where excessive convention becomes lazy writing. In a series so popular as to merit a 22-show season, it would be understandable to see some stretching of a story line or a few dull episodes…hopefully that's all tonight episode was…an anomaly. There were moments of greatness as seen in Jane Lynch's always terrific acting, Carol Burnett's rapier wit and even the predictable yet crushing bombshell at the end of the episode.
I'll end this review with a wedding inspired toast: "Here's hoping that this week was the lull before the storm and next week, Glee will yield a triumphant return to Sectionals"