Burlesque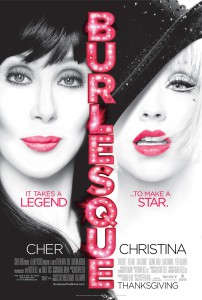 Burlesque follows a story that many have seen before, in fact we saw a similar story a decade ago with Coyote Ugly. You know the one, about the small town girl who has big city dreams. She moves to the city only to find that her dream isn't waiting for her on a silver platter. However, this girl has talent that no one around her knows about or would ever assume. Such is the story with Ali (Christina Aguilera), despite the fact that she is drop dead gorgeous, and is oozing with vocal talent, everything in life has been hard for her. She lost her mother at a young age (what happened to the rest of her family is never explained), and she's worked for everything she has.
Upon arriving in the big city Ali happens upon a Sunset Strip club, and the gaudy lights which spell out "Burlesque" intrigue the young singer. Upon entering she is enthralled by the mother hen of Burlesque, Tess (Cher), and her lineup of beautiful girls.  After befriending the bartender, Jack (Cam Gigandet), and proving her worth she is hired to the club as a waitress. When one of the dancers becomes pregnant Ali proves her worth to Tess, and gay stage manager Sean (Stanley Tucci playing a role you knew had to be in a modern day musical). After a series of manipulations meant to harm Ali's standing by rival dancer, Nikki (Kristen Bell),  Ali is revealed to have a set of pipes on her that might be able to save the club from going under.
It's hard to review a film like Burlesque, it is hard to understand how something so terrible can be so much fun. Not a lot of the plot makes sense, only about half of the acting seems at the level you'd expect from the cast, but it still is a blast to watch. I imagine that those within the target audience will enjoy it much more, and will be much more than just a guilty pleasure for some.
Let's start by focusing on the positives. The film is never once boring, despite the fact that its plot is derivative of hundreds of other films. In fact, one of the most frustrating things about the film, is that the payoff of when Ali shows her talent comes much later in the film than I was expecting. You go to watch a film like this to see Christina Aguilera's pipes (and other assets), not to see her bring another bland character to life. Every time Aguilera sings the film immediately picks up, and reminds you why you would pay to see it.
The next bright spot is Stanley Tucci, who always seems to be the best actor in any film he is featured.  His bantering with Cher and other actors in the film give the story a bit more believability than it would have had otherwise.  Unfortunately the same cannot be said for Kristen Bell, who is woefully miscast in the role of "evil bitch". Bell as evidenced by her run on Veronica Mars is best used when she is an intelligent (yet cute) protagonist.  Bell continues to make missteps in a career that half a decade ago looked very promising.
Burlesque comes across as an amalgamation of Caberet (not surprisingly it uses Tony Award Winning Caberet actor Alan Cumming in a small role), Coyote Ugly, Funny Girl, and a splash of Moulin Rogue. Unfortunately it never quite reaches the significantly of Caberet, the classicness of Funny Girl, and the inventiveness of Moulin Rogue. In the end it hits about the same level as Coyote Ugly, a lot of people might have fun watching it, but there isn't much to it.  Despite numerous flaws, the film still comes out on top due to its campy nature and over the top musical numbers.
Grade: B-