Weekly Gleek Report – "Blame it on the A-A-A-A-A-Alcohol"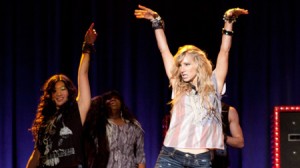 Underage drinking is bad. Right? Well, according to this week's Glee…maybe not so much. Tonight Glee's "very special" episode took its turn at the time honored tradition of dedicating itself to the epidemic of teen drinking. Roseanne did it, The Cosby Show did it and Growing Pains did it. Glee kind of side stepped the issue altogether.
Glee starts out with Rachel's failed attempt to write an original song. Desperate to gain inspiration and life experience, she agrees to hold a party while her dads are out of town. Rachel soon learns that her wine cooler coupons won't cut the mustard and allows Puck to break in to the liquor cabinet. Rachel makes out with Blaine (yeah, the gay one) and throws a monkey wrench into his and Kurt's "relationship". The school's sudden focus on alcohol also spurs a honkytonk filled night for Mr. Schue and Coach Beiste; they have a great time too, but Schue accidently drunk-dials Sue Sylvester and leaves a message intended for his lost doe-eyed love, Emma.
Aside from the real lack of story or "stance" on underage drinking, tonight's episode was fantastic. It featured four solid performances and was quite frankly…really entertaining. Tonight Glee captured the nostalgia of high school house parties and got to play the role of the "cool older brother." It doesn't really care if you drink or not, but just to be on the safe side it's gonna make the standard disclaimer not to drink and drive and not to over do it. There's a brief scene in which Mr. Schue and Coach Beiste actually discuss their concerns of underage drinking, but quickly assert that their responsibility ends with raising awareness and allowing the kids to use their own best judgment. Of course, this stance could be viewed as very mature or very irresponsible, but regardless, Glee is a TV show and doesn't have the responsibility of a parent.
Glee makes a few concessions to appease the more frumpy viewers, but on the whole, tonight's Glee was full of entertaining spectacle. With performances of "Blame It (on the Alcohol)", "Don't You Want Me", "One Bourbon, One Scotch, One Beer" and "Tik Tok", Glee seemed to favor more upbeat music this week.  I guess "Whiskey Lullaby" would have killed the buzz.
What did you think? Were you disappointed in Glee's recklessness or did you have fun at the party? Let us know below.