Weekly Gleek Report: Asian F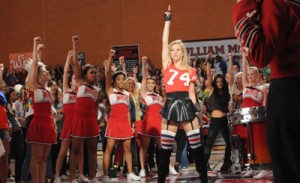 We begin where we left off last week as the Glee kids endure booty camp and Kurt and Brittany face off in the race for Student Class President. The better story line involves the titular Asian F (A-) that Mike Chang gets in chemistry. With the recent release of the tongue and cheek non-fiction book Battle Hymn of the Tiger Mother, Asian parenting is all the rage. Ryan Murphy apparently felt it would make a good story line…and it did. There is a scene where Mike is dancing by himself that feels a bit heavy handed, but the sweetest moments in this episode are derived from Mike's struggle to manage perfect academics with his need to perform.
The bulk of the other action is centered around Mercedes' and Rachel's fight for the lead role of Maria in West Side Story. The devices the writers used to show Mercedes' change of confidence seem too sudden to be believable, but this isn't a show that really needs to be believable. It's suggested at the end of the episode that this change will begin a new story arc and for a show that has had issues with stagnancy, any forward motion is a good thing.
The songs are great for the most part, even the ballads maintain enough energy to keep them entertaining and the faster songs are even better. The two best performances are Run the World (Beyonce) and It's All Over (Dreamgirls). Heather Morris comes back from a less than stellar performance last week to a gripping rendition of Beyonce's "Run the World". The whole cast gets in on the fun with Dreamgirl's "It's All Over" and Harry Shum Jr. (Mike Chang) steals the show with the realization that he actually can sing. His performance of "Cool" from West Side Story would put any Gap ad to shame.