iPhone 4S Arrives, October 14th U.S. Release Date
Apple announced today that the next iPhone is indeed scheduled to hit the market this month.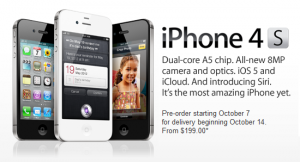 Coming into today, this was a huge launch for Apple. After missing the usual Summer iPhone refresh, a lot folks began to worry. When Steve Jobs resigned as CEO, they began to worry even more. After all, Android hasn't slowed down in the slightest, consistently gaining in subscribers since Sept 2009's release of version 1.6 Donut. As of July 2011, Google's mobile operating system has in fact cornered 41.8% of the U.S. smartphone market share versus Apple's personal best of 27% market share. Competition has been fierce. So fierce that it even forced out one competitor (webOS) and will continue to sweep Blackberry and Windows Phone out of contention. The hardware on most high-end Android handsets nowadays reads closer to a laptop computer now than anything else: dual-core CPU's, 1GB of RAM, 2.0 MP webcams, 4G LTE and WiMax, 1080p video, etc. So out of the two major players still left in mobile, what has Apple just brought to the table?
iPhone 3GS (8GB for FREE on 2/yr contract)
iPhone 4 (8GB for $99)
iPhone 4S (starting at $199)
A5 dual-core CPU (same as iPad 2)
Antenna switching to remedy Antennagate
14.4 HSPA+ "Faux-G", no LTE or WiMax
Now available on AT&T, Verizon, and Sprint
GSM/CDMA worldphone
8 MP camera, 33% faster, f/2.4 aperture (better low light, faster capture)
1080p w/real-time stabilization
AirPlay Mirroring (same as iPad 2)
Assistant: voice-activated handsfree commands
16GB ($199), 32GB ($299), and 64GB ($399)
Pre-order beginning Oct 7th, U.S. release on Oct 14th, International on Oct 28th
So that's it. No iPhone 5. All in all a very disappointing event as far as Apple events normally go. Mostly just reviewing iOS 5 features that we first saw back in June at WWDC. Well now that you've resigned to get rid of your 3GS or iP4, are you in fact going to upgrade or wait until the next next iPhone?
Sources: Wikipedia, TWiT live video feed, Gizmodo, Engadget