Weekend in Review: C2E2 2023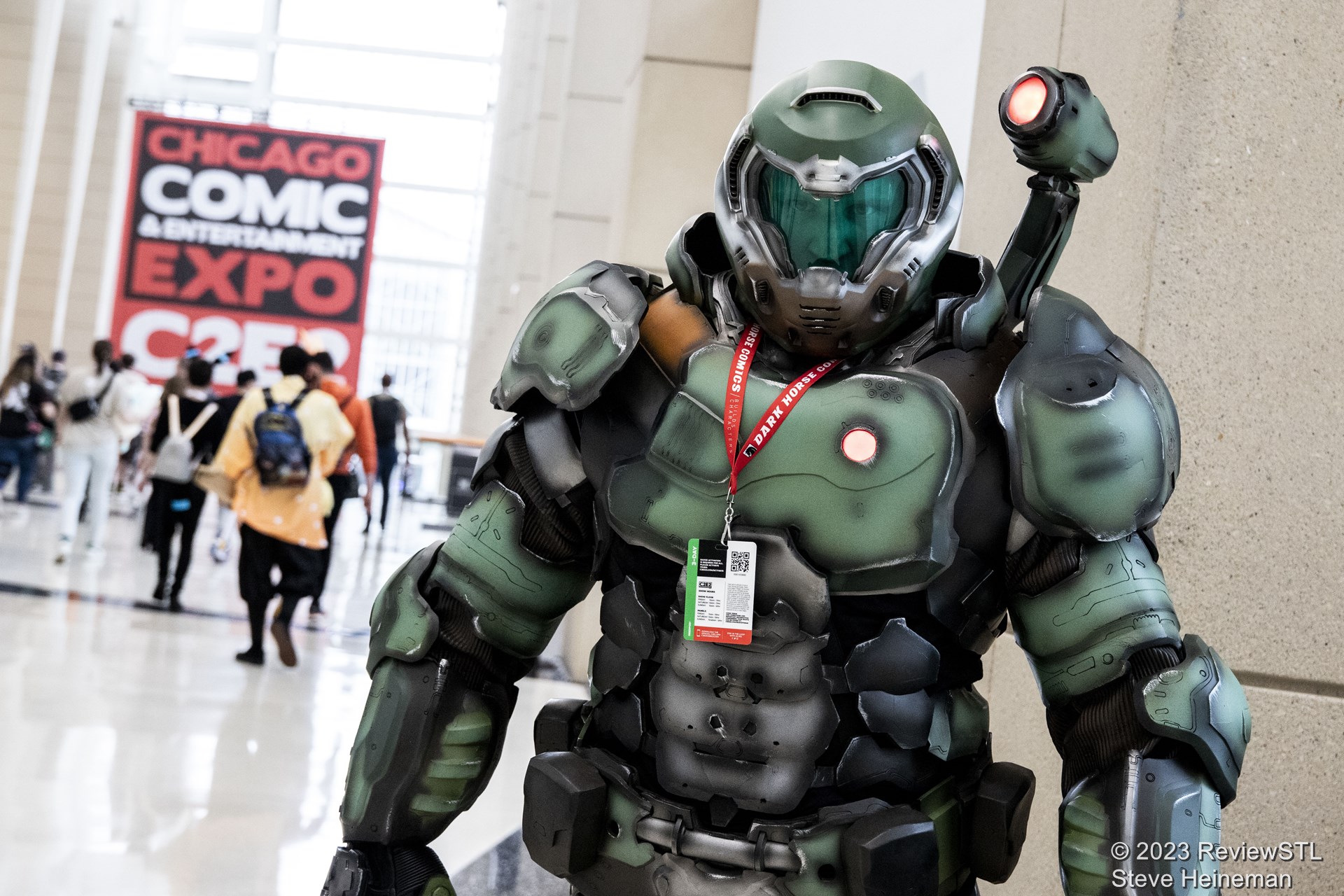 After another off-year, the Calamity Crew made it back to where it all started… the Chicago Comics and Entertainment Expo. We may not be able to attend every year, but this con will always hold a spot at the top of our list. Between the gigantic vendor hall, the great programming, the celebrity guests, and the cosplay networking, C2E2 has everything we want in a convention.
Our plans shifted slightly a couple of weeks before the event. Justin (@justbryyce) and Harry (@harry_james7910)would be joining me in the room as usual, but a last-minute shakeup meant we needed a fourth. We decided to invite my brother Michael (@nighthawk7785), or Mikey as we call him because of the hundred Mikes we know, to join us on this crazy adventure. Mikey had only been to two cons, the big two I've attended but haven't covered for ReviewSTL in the past 5 years: Star Wars Celebration 2019 and Super MAGfest 2023. Mikey's only costume so far is Darth Revan, and since I was already planning to bring Malak, it worked out perfectly!
Bringing Revan and Malak to C2E2 got even better when I reached out to our friend April Gloria (@_aprilgloria) about a group shoot. She informed me that she'd be shooting with Alex (@aleestudios) on Saturday and invited us to join! We pretty much planned our entire weekend around making that happen. Skip ahead to Saturday's recap if you want to hear more about that.
I also invested in a photography upgrade since DragonCon. Justin let me borrow his Sigma 24-70 2.8 art lens for MAGfest, which I really enjoyed using at the concerts. It had been quite a while since I used a zoom lens. I sorely missed the versatility! I bought one of my own, which I happily brought to C2E2 for its first outing. I didn't get to take as many photos as I wanted to, since it was not feasible to carry it around while I was Malak, but I am very happy with what I did manage to get on Friday and Saturday morning.
Anywho, onto the daily recaps!
Friday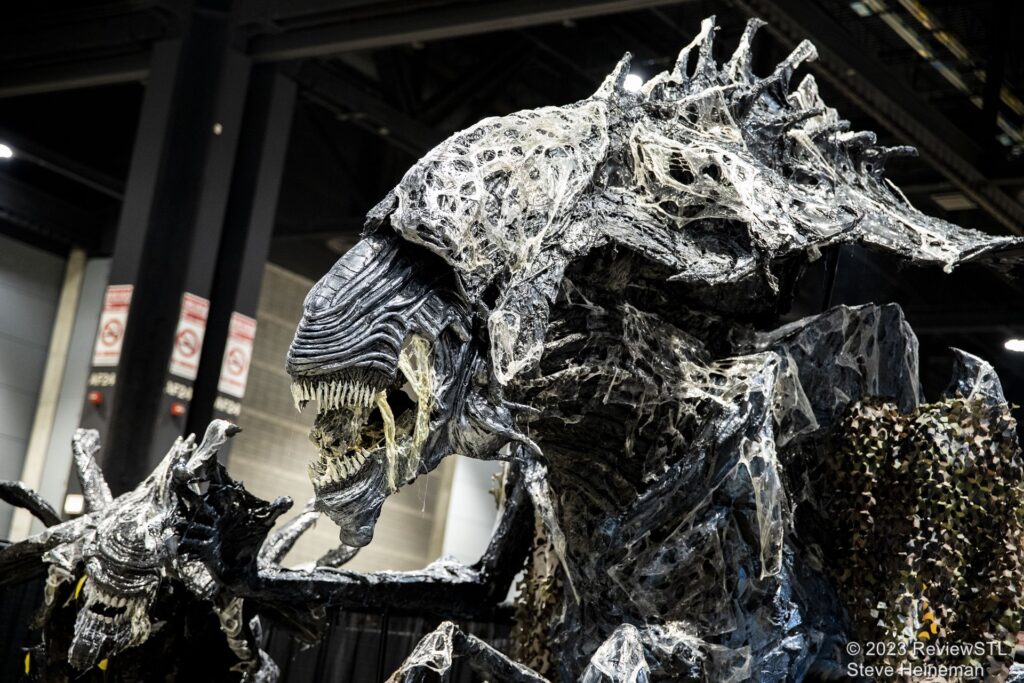 This will probably be the last year we make the drive to Chicago on Friday. Since C2E2 is only a three-day con, we try to pack all of our driving into Friday and Sunday. That way we don't have to take as many days off work and can minimize our hotel expenses. I can still make it happen, but waking up at 5am to drive 5 hours, then suit up and go to a convention for 7-8 hours is quite taxing. After talking to everyone, we decided the Calamity Crew will be showing up on Thursday night for next C2E2.
Upon arriving at the Marriott around noon, we were able to get an early check-in with no hassle. And I've bloodied myself up as the vault dweller for just about every con I've attended, so it goes very quickly at this point. I may or may not have left a crime scene in the bathroom doing so… but hey, Mehron is water soluble! Within another hour, we were already on our way down to the convention hall to get badges.
In the last few years, C2E2 has made some changes to its Will Call and security checkpoint setup. Both of them used to be set up in the hall across from the main entrance to the con, but have since been split up for easier access to badge pickup. Harry, Mikey, and I went through once for ourselves, then accompanied Justin, the Carr brothers (@carrbrosprops), and Chris's girlfriend Rebecca on their way through as well. Each time was a breeze to get through, so props to the C2E2 crew for making that an easy process.
The security checkpoint was a bit inconsistent. Traditional metal detectors were replaced by newer sensors that seemed to pick up certain devices and metals. The first time I walked through (in my complete vault dweller cosplay), I didn't set it off at all. When going through the second time, after ditching my PipBoy and steel-toed boots, I did set it off and was pulled aside to empty my pockets and go through again. I ended up setting it off again on Sunday, but understandably because I had my camera backpack full of gear. I heard a variety of experiences from other people over the weekend, so we're still not sure how effective those new sensors were.
Once through security, we were immediately greeted by familiar and exhilarating sights. Cosplayers and photographers flowed through the lobby, people lined up wanting to take photos with the C2E2 letters, and impromptu dance parties formed in front of the DJ stage. Mikey was seeing this all for the very first time, but for the rest of us… it felt like we were home!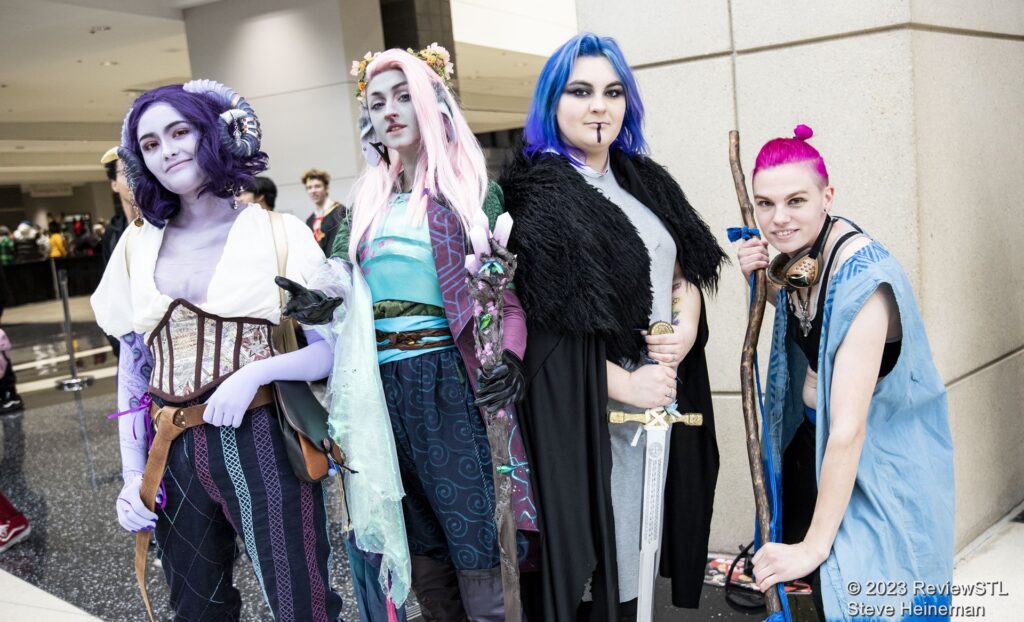 Harry and I quickly noticed something upon entering the con floor. Usually, C2E2 has some large gaps near the sides between the booths and walls. This year though, the floor was packed! With over 560 exhibitors, there was almost too much to see in only three days. The topic of extending C2E2 into a 4 or 5-day event came up multiple times among my friends. I have to wonder if ReedPop has considered it. It might be worth it with the sheer size of this convention.
Of course, my first priority on the floor was to find friends. Cosplay Central is the best place to accomplish that goal. While Harry split off to go shopping for books, I introduced my brother to enough people that I'm sure he already forgot half of them. We first encountered April and Alex walking with fellow photographer and miniature enthusiast Rob (@happynerdphoto). After warm greetings and much excitement for the KotOR photoshoot, they filled us in on a fresh tragedy that had just struck the HDC booth (@hdcfabrication). The mannequin holding Tim's picture-perfect Din Djarin costume had fallen over, the breastplate shattering from impact with the concrete floor!
Luckily the HDC booth is also the cosplay repair booth. So when we approached, we spotted Tim's team already hard at work fixing it. Tim himself was swamped with a crowd of cosplayers needing assistance with wardrobe malfunctions, so we steered clear hoping to see him later in the day.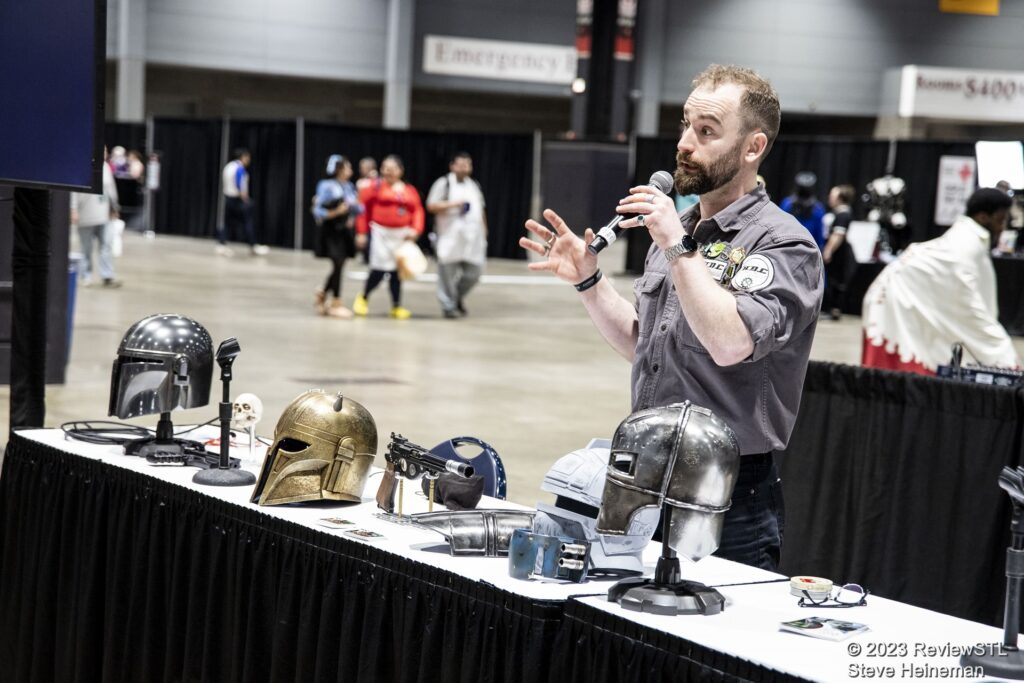 The next stop was the Ginoza Costuming booth (@ginozacostuming), where we were instantly floored by Brittani's epic Warcraft armor. Her insane talent was on full display, not only in her costume but in her artwork as well! She offered hilariously epic 3D Spongebob meme paintings and held a raffle for a set of big cell-shaded dice that looked like they rolled right out of Tiny Tina's Wonderlands. After catching up with her and her husband Josh, she told us her entire Saturday would be consumed by judging the Crown Championship Cosplay Competition. She didn't know what would happen for dinner that night, so we joked about having food delivered in the middle of the show. A con crowd would go absolutely nuts over an actual pizza delivery driver walking out on stage.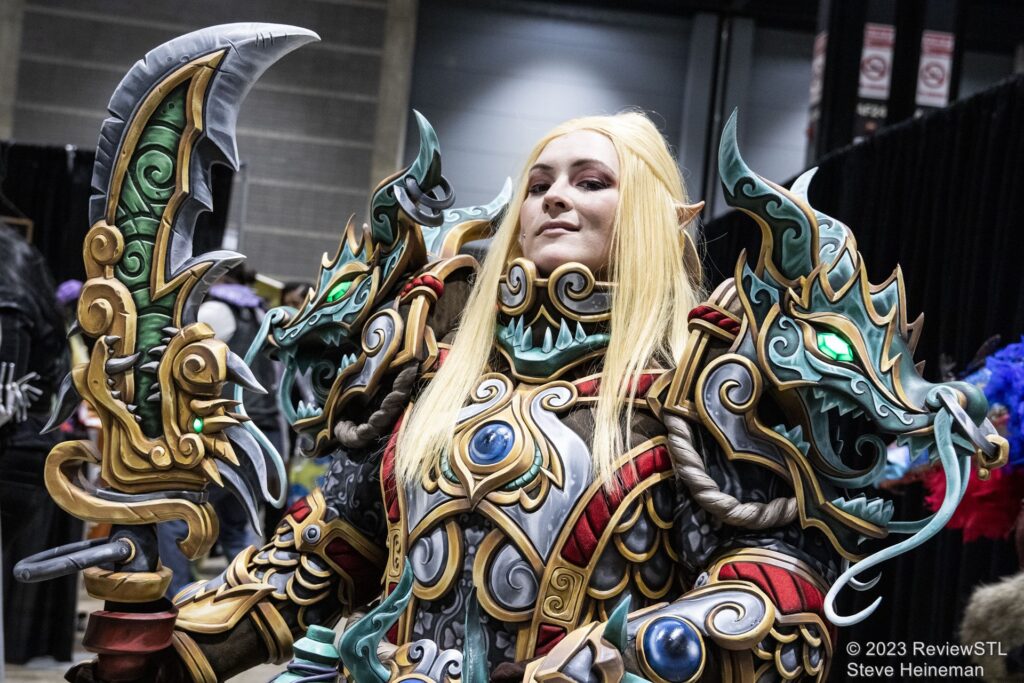 After taking photos, we realized one of Brittani's LEDs had gone out. She said Jasmine (@jajacosplay) had the remote, but was somewhere else on the floor. Not even 10 minutes after leaving Cosplay Central, we found Jasmine in the Artist Alley. She laughed and texted Brittani to let her know the remote was actually with her, in her butt pocket. Moral of the story: if you lose track of something in your epic cosplay, remember to check your butt!
Later along our first walk through the floor, I introduced Mikey to more of my long-time con friends including Joe (@musclesuitnotneeded) perusing Artist Alley, Will (@dlc_props) in his full-leather NCR Ranger costume, and Diana (@dianaquake) in a classic Star Trek uniform. Diana was only there for that day, unfortunately, which was a bummer. She was one of the first friends that Justin and I made at our first C2E2 back in 2017. She wasn't able to get a badge for Saturday before they all sold out. The weekend felt like it came as close to capacity as it possibly could. This year saw over 90,000 attendees!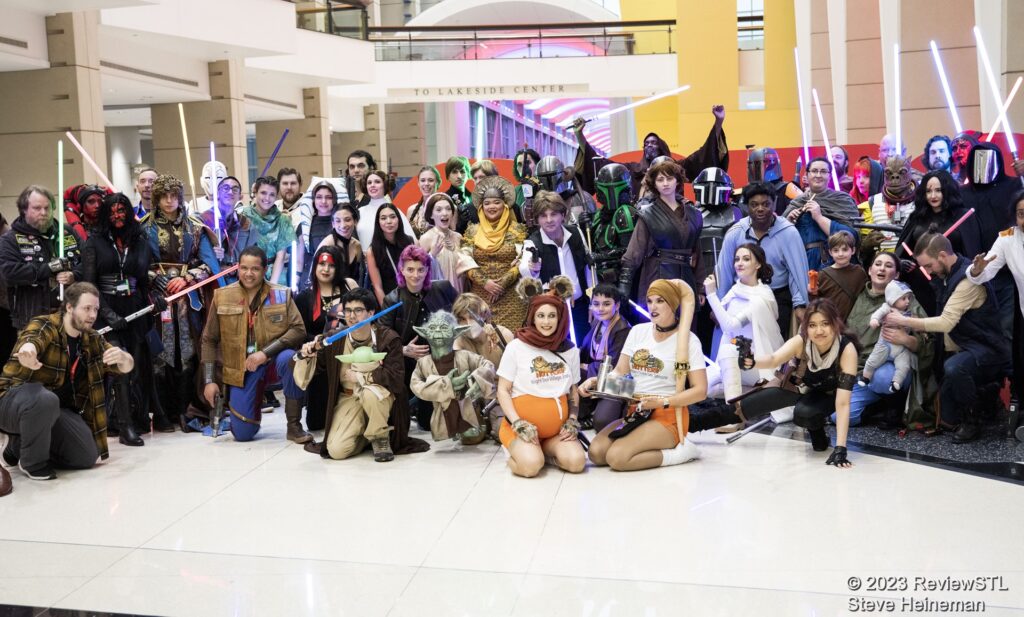 During our second trip to the floor after lunch, I caught the beginning of the Star Wars group cosplay meetup hosted by Eddie B (@eddiebphotos). He was hustling all weekend with group photo sessions. Unfortunately, my schedule kept me from attending most of his shoots, so I'm glad I got a chance to say hi. I was disappointed I wouldn't be able to make it to the Critical Role shoot, where Eddie and I first met at C2E2 before Covid. I made sure that wouldn't make me miss an opportunity to see another co-coordinator of C2E2 Critter events, Kayla (@asheneyed). She told me to find her at the Sorbet Jungle booth. Distracted, I walked right by and she got the drop on me! Very fitting for a Vax'ildan cosplayer…
There was a small Beyond the Blast Doors reunion as well that afternoon. Mikey and I found Jesse (@mandofury) and his brother Tyler in line to get a photo op with Sam Witwer. As we caught up and talked about his Mandalorian upgrades, he invited us to join them in the photo. Of course, we weren't going to turn down a chance to meet Starkiller! Since joining the Star Wars universe, Sam has also voiced a couple of choice Sith Lords, Darth Maul, and the Emperor himself. I have to thank Jesse again for the experience. It felt like we were back at Star Wars Celebration!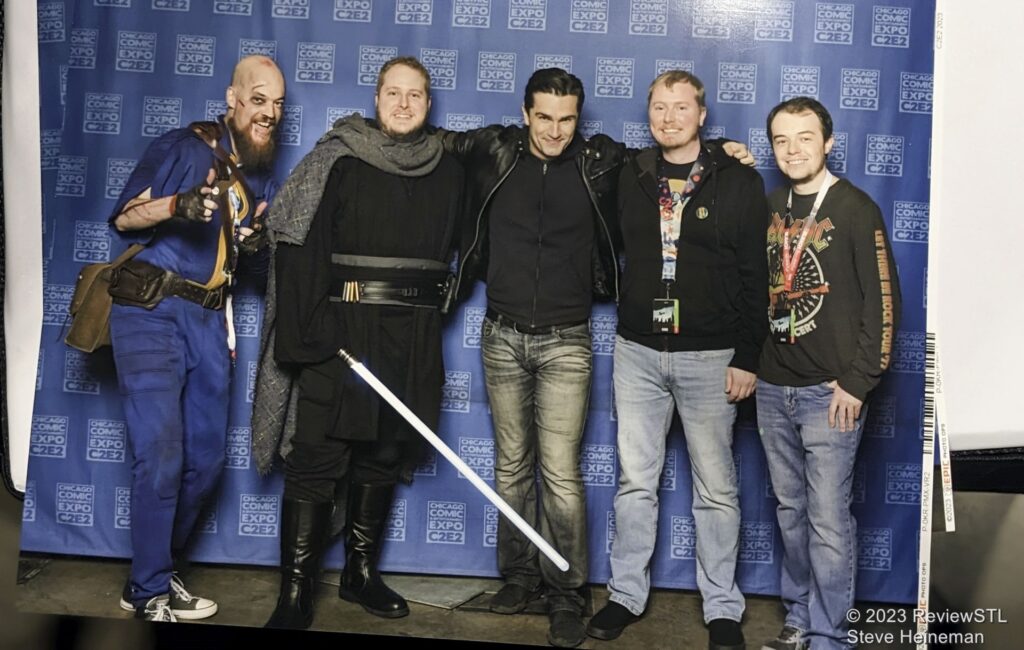 After retrieving the printed photos, the four of us went back to Cosplay Central to gather with other people and wrap up the day. This time, I was fortunate enough to get a chance to talk to Tim in front of his booth. Tim told me he would also be tied up with the competition the next day, rushing to finish the awards for the winners. As we talked, the Calamity Crew finally assembled. For the first time all day, I wasn't the only one of the crew to be in costume. Tank (@psy_phi) finally joined us in his casual Friday cosplay, Blue Shirt Guy. Just in time to make plans for dinner!
Rather than go out, we wanted a quick option so we could relax before going out to party in the evening. As we waited in line for the Marriott Food Hall, we were swayed astray by the smell of a pizza coming from a delivery driver in the lobby. The Carrs put in an order for pizza and wings, while I took care of some other wing business. Kayla had requested help avoiding the incoming rain on Saturday and I offered my room as a place to store Vax's wings. After tucking away the large tub of foam feathers, I rejoined the crew down in the Food Hall where the staff had been kind enough to let us use a table while they were cleaning up for the night.
Now for the part everyone loves, the Hyatt lobby party! This C2E2 felt bigger in every way, and the lobby parties were no exception. We talked to fellow photographer Pat (@pat.dyer) to recount the events of the day. I got a chance to say hi to a few other C2 regulars, including Brooks (@crixus629), Mary (@marymarycosplay), and Kim (@kim_is_possible). We shared stories with other friends from our con circuit as well, including Rachel (@simplyrayelle), John (@whojohnquade), and Wulfgar (@wulfgarprops). I spoke to Wulfgar for a while about Warhammer 40k, a big topic for the Calamity Crew this weekend as several of us were just getting into the game. I don't want to hype it up too much, but I might end up in one of Wulfgar's Space Wolves armors sometime in the future.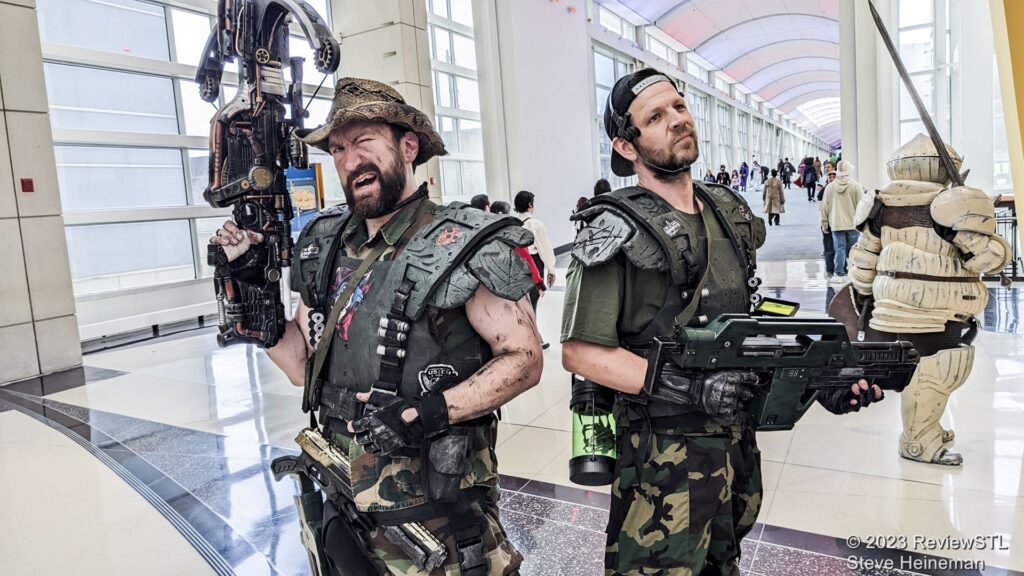 The lobby is the best networking spot for C2E2. There were so many people, it's hard to name all the friends we encountered both nights. I met Josh (@thehypnorealm) and Keesha (@kuudere.kitten) who introduced me to her friend KiKi (@kiki_kitsune_cos). I shared my classic Party Potion with several friends. After pointing out the use of unsweetened cranberry juice, Ginoza confirmed it indeed tasted like a Warhead. Alex even hung out way past her usual bedtime. Her roommates April, Amanda (@jedimanda), and Casey (@caseyreneecosplay) had all called it a night long before we decided to as well. 
Unfortunately, I called it too early, just barely missing out on the surprise birthday party for our good friend Alan (@luke_hangover). We've seen Alan all over the place during this crazy journey through nerd culture, including Gen Con, Star Wars Celebration, and DragonCon. It's always great to see his different variations of Alan (from The Hangover) and Luke Skywalker. I was saddened to hear that he may not be doing DragonCon for much longer. I understand completely. Cons like C2E2 and Gen Con are exciting and a lot of effort, but DragonCon is a whole other beast altogether. We joked about being sore for a solid week after the last one.
Although I missed the celebration, it was probably best I got some sleep after the long day. I would need all the energy I could get for Saturday.
Saturday
The biggest day started with wings. Kayla arrived at the Marriott before the convention opened to affix her Vax wings. I helped strap them on and settle her costume around it before walking her back down to the lobby. The wingspan was impressive! Lots of side-walking like a stealthy bird boy though. Luckily we found a group of people kind enough to help her out with doors in the sky bridges leading back to the convention center.
After a quick shower and a bit more costume assistance, Justin and I went down to the convention center lobby with Rebecca and the Carrs all suited up. Rebecca improved the Bulma Bunny cosplay. Chris put on Captain Falcon, while Mike debuted his new Shadow Ganon, a variation of the Ganondorf cosplay he wore with Captain Falcon at DragonCon. As soon as we got to the lobby, we were amidst tons of awesome costumes. I took as many photos as I could before having to retreat to the hotel again at noon. I had to get into costume as well!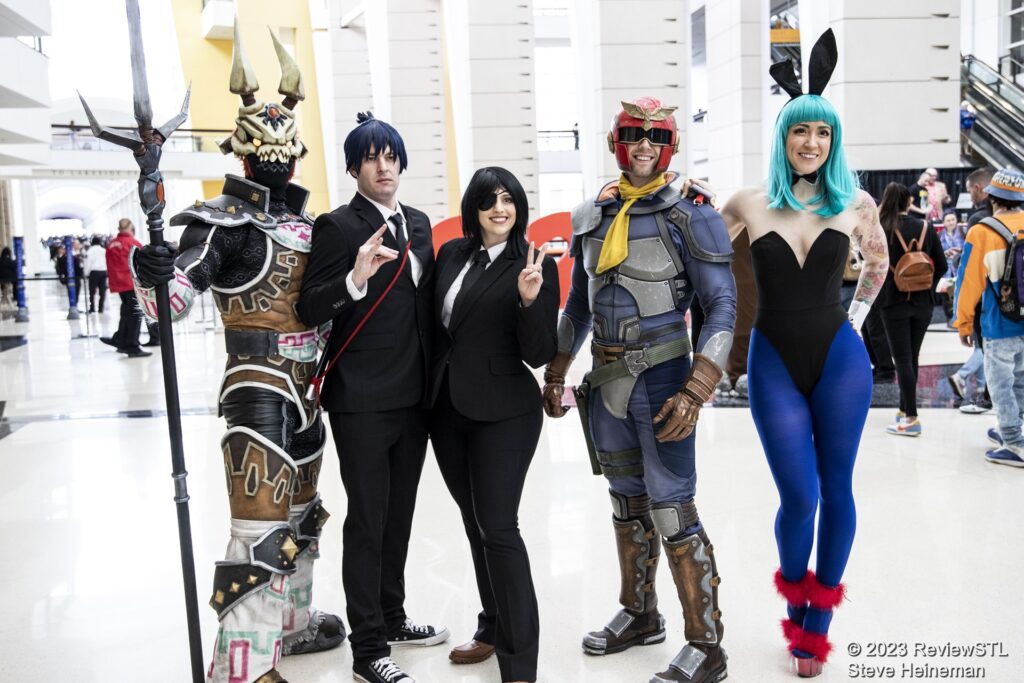 By the time I returned to the room, Mikey had already started assembling Darth Revan. Over the next couple of hours, I did what I always do… try out a makeup product I'd never used before the day of a con. At the recommendation of Jenn (@jenna_say_what), I bought and used Body Color Cosmetics for the white on Malak's face. It applied very well, only needing minor touch-ups with the Mehron creamblend stick I discovered before Archon last year. Mikey and Tank both helped me finish the back of my head. I still need to figure out how to take care of that myself. I'm thinking of either a stencil or getting really good at using mirrors…
Walking back down to the floor, I received a text from Rob saying that April was looking for us and to meet by the C2E2 letters in the lobby. So, just like in the classic Star Wars game… Revan and Malak went looking for Bastila. We stopped for several photos for eager photographers in the lobby and I saw enough epic cosplays to make me really regret not bringing my camera along. While my phone wasn't getting great reception in the convention center, it was still usable as a camera. Almost all of my photos from Saturday were from my Pixel.
After getting confirmation of their location, we walked across the huge skybridge leading toward the lake to meet them. Alex had just finished up her 2:00 shoot when we arrived. We unloaded our badges and things we couldn't pocket. Our new friend Chelsey (@chelseycurrentlycosplay) acted as the guardian of the badges while the rest of us went out into the cold wind to take photos. I cannot express just how excited I am to see these. April and I had been talking about doing a group shoot since C2E2 two years ago! What I saw on Alex's camera was so damn good, and with her post-production magic, I'm sure the finished product will be EPIC. I might have to get one printed and framed!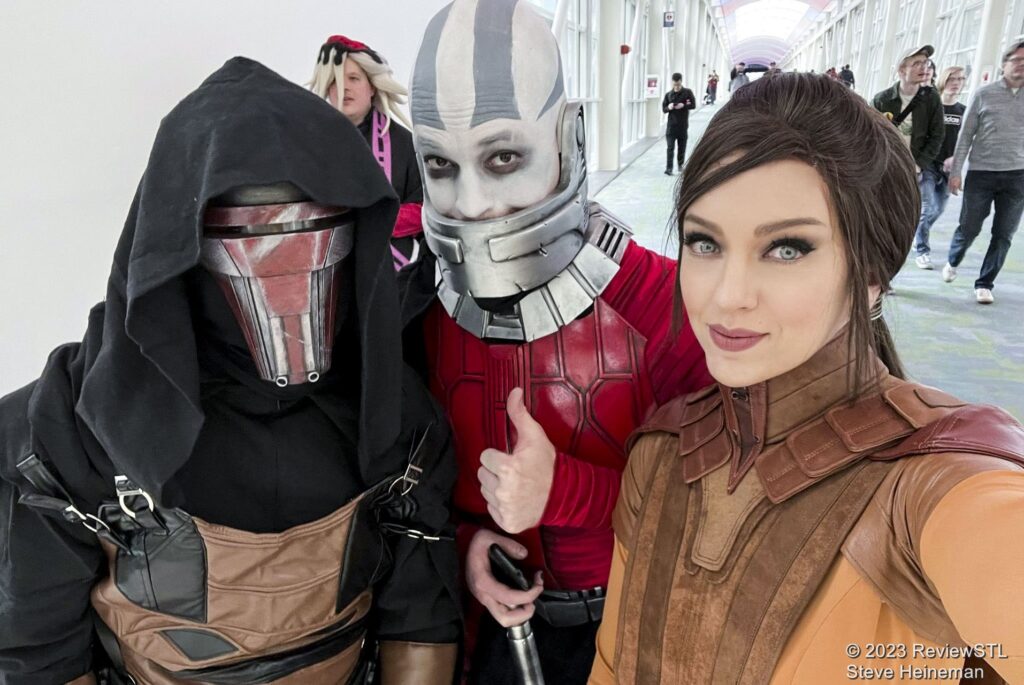 With the most important part of our day wrapped up, we let the Jedi go her own way while the Sith Lords walked the floor. We met up with Will in his Sith Marauder costume at Cosplay Central, then spread darkness across the convention. Not really, but it felt awesome to have a Sith group to cosplay with. Our conquest led us to the Yard, where we met up with Kayla to take some photos. Her Vax wings looked even more impressive in the well-lit open space. I have to wonder how many people she accidentally hit with them though. We also caught Des (@desireecosplay) as Spider MJ and Ryan (@alteredforms_cosplay) as Mysterio for a couple of photos.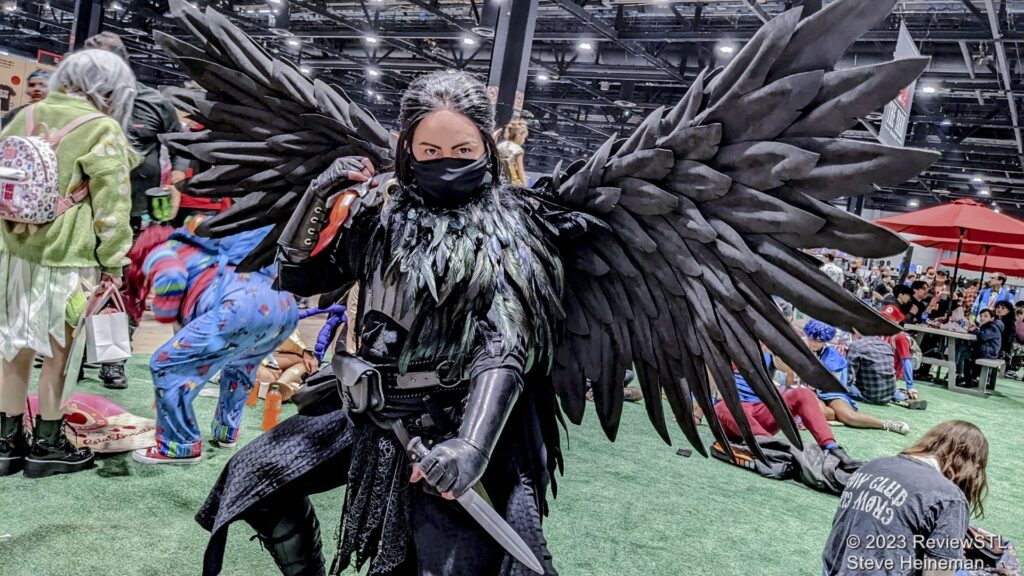 Eventually we made our way to the Family HQ, where all of the Star Wars costuming groups run things. This area feels like a little slice of Star Wars Celebration. Droids rolling around, people taking photos with large scenery, kids shooting troopers with Nerf blasters… and we fit right in! Several people asked us about the costumes and if we were part of the 501st. We also made a new Mandalorian friend. Rick (@thepattychuck) was dressed as the group's Din Djarin, seated on a Mandalorian throne. We got pictures with him, and then of course with Revan on the throne!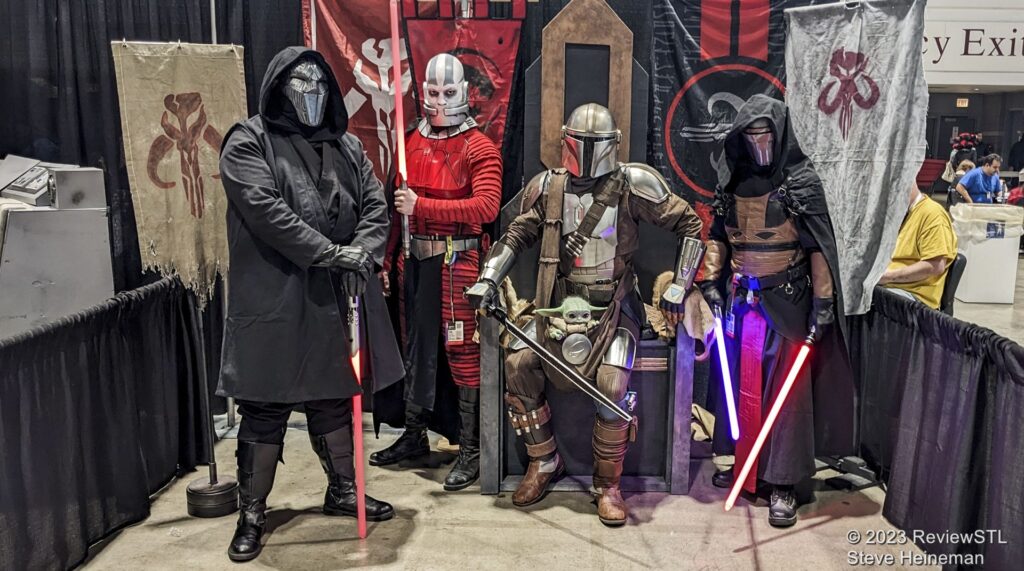 A couple of hours and many photos later, we retreated to the Marriott to prepare for dinner. The Calamity Crew assembled in our hotel room as we removed our Sith garb and I started yet another first-time effort of this con… removing the makeup. Body Color Cosmetics is waterproof, so I had the tedious task of spraying the activator into a washcloth and scrubbing my face until all of the white was gone. It took almost thirty minutes to get it all off my face, but in doing so I pushed a lot of it into my beard. I went out for dinner looking like an old goth with a gray beard and smoky eyes.
Rebecca chose the dinner venue, Haidilao Hot Pot on the opposite side of the Wintrust Arena. We've done hot pot in Chicago before, but this felt like a whole new level. They had robotic carts bringing food to the tables, large sauce bars with all kinds of crazy ingredients, and even a Kabuki performer! We ordered a huge variety of vegetables, meats, and seafood that filled the table for all eight of us. The meal was incredible, but I have to warn all of you. If you order something called "Lobster Dynamite Balls", beware of burning your tongue. They're not called dynamite because they're spicy, they're called that because they explode into lobster lava when you bite into them. It's like a pizza roll dialed up to 11.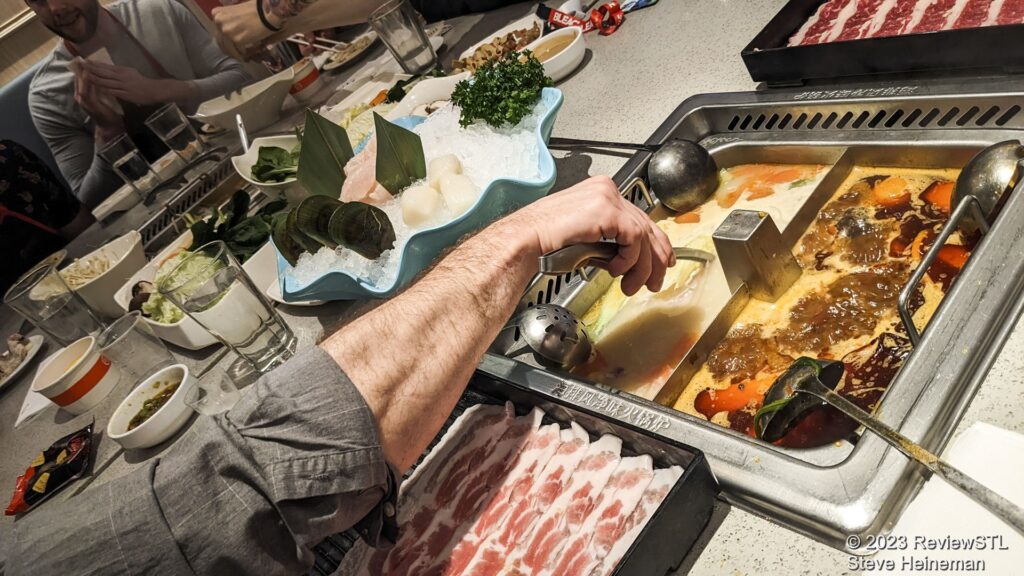 Dinner lasted a bit longer than we had planned, so we were late for the cosplay contest. Luckily C2E2 is always prepared for a massive audience to attend this show, so they have several overflow areas for people to watch from projectors. We made it into one of the rooms just as the US competition was ending to see Steph (@nerdsgonemildcosplay) win first place for her incredible Aloy costume. Everyone was thrilled, most of us having either followed her build or seen her earlier in the day. Then came the World championship. After seeing all of the truly epic builds, the winners were announced…
In third place was Alisyuon (@alisyuon) as Clown Doll from Sakizo, which featured excellent intricacies in stitchwork and a quick change skirt. Second place went to Ludus Cosplay (@ludus_cosplay) for his Aratak from Horizon Zero Dawn: The Frozen Wilds. And Steph won the crown champion first place! Her Aloy from Horizon Forbidden West absolutely nailed every aspect of the character's design and used real raw materials rather than foam or other typical cosplay materials. After the contest, we got a chance to see her and a few others up close. I can't imagine how hard it was for the judges to decide. Each costume we saw had absolutely insane detail. Just like every C2E2, seeing all this talent inspired us to discuss our cosplay plans for the future and how we might improve our skills.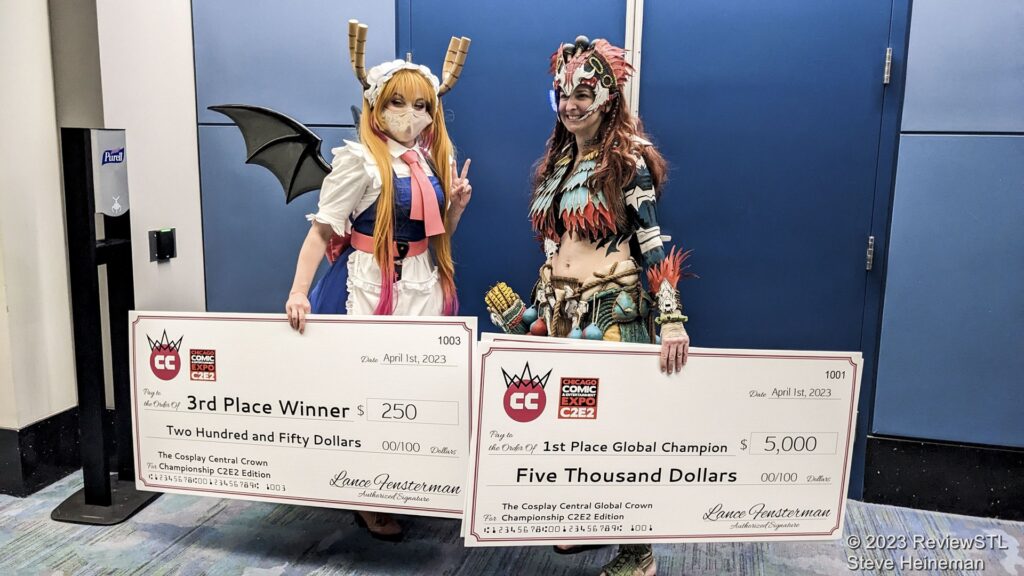 Once the excitement of the competition wore down, we were already back in the hotel room preparing for the lobby party. A bit of tequila turned my overwhelming feeling of tiredness into excitement to mingle with cosplay friends once again. As we were loading up our bags to head down, Justin told the rest of us that the Carrs and Rebecca were bailing for the night. It was very surprising to many people, considering how they're often the life of the party. Mike's voice was almost gone by the time we left the cosplay competition, so it made sense he'd want to save it for Sunday. But I popped my second wind and we left our room with enough energy to carry through the rest of the night.
Like the previous night, the Hyatt lobby was packed with cosplayers, photographers, and all other kinds of congoers. While bouncing from friend to friend like a social pinball, I stopped to share a potion with Rob and his wife Anna (@stlmodernmrs), who introduced me to Rob (@thedndwannabe) and Teagan (@realwimblebimble) of Misty Mountain Gaming (@mistymountaingaming). I also got a chance to speak with Freddie (@ironbear_armory) for the first time since seeing him that morning about his cosplay plans. I'm not going to spoil it, but let's just say I seriously cannot wait to see his next build.
Many people compare the Hyatt lobby party to DragonCon. A whole bunch of nerds are packed into a hotel lobby with considerable amounts of alcohol. That vibe is assisted by sights like Joe trying to walk in massive high heels for the first time, a group playing cups on a nearby table, or someone randomly passing out bags of Sunchips from a huge box. We came across many more friends that night too, including Alex and Amanda, who showed me the beautiful Rhaenera Targaryen cosplay she wore earlier that day.
There were a lot more instances to chat about cosplay. I spent quite a while talking to Kim and Xan (@xanvai.cosplay) about our various experiences with makeup and prosthetics. Kim had just won best effects for her Togruta Sith at the cosplay competition. She was so excited to show off her little "evil Grogu" doll that accompanied the costume.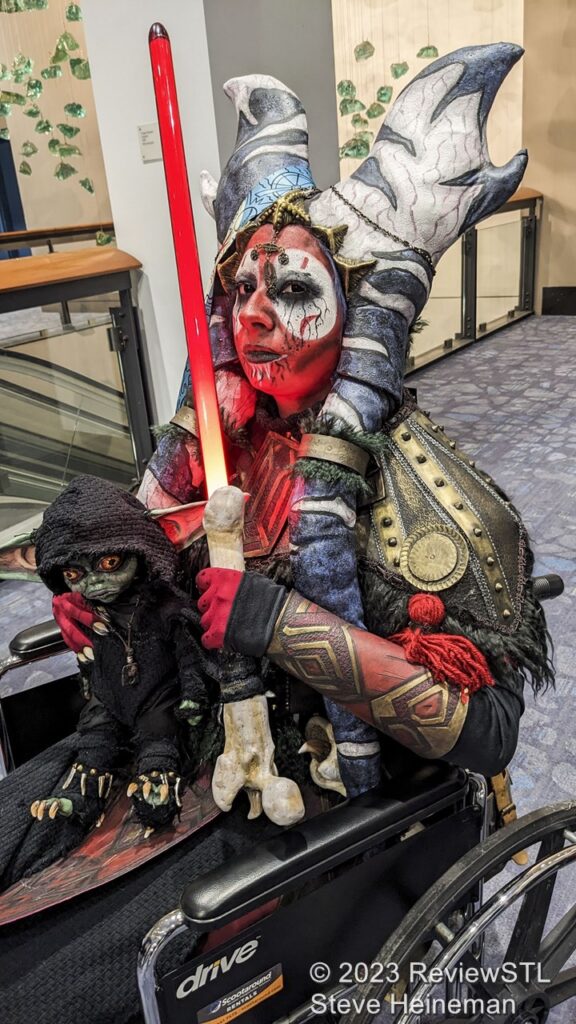 An errant water bottle also led to a conversation with Steph, where we congratulated her again for her big win. She's off to prepare for her next big adventure in London, where she'll be representing the US as a judge for a huge international competition. Not long after, security swept through the lobby and started to push people out. Justin, Harry, Mikey, and I all returned to our room to end the day with a few late-night munchies and packing for checkout.
Sunday
A variety of pains can pop up at a convention. Soreness from walking in costume boots for days, hangovers from overdoing it at the afterparties, and even stomach problems from taking a gamble on food you never eat… but I was stricken by a new pain. My entire mouth was still burning from the hot pot the night before! The lobster dynamite balls and spongy tofu did a big number on my mouth. Upon writing this recap, I finally feel like my mouth hadn't been nuked. The delicious meal was definitely worth the pain, but I could barely taste anything all day Sunday.
As usual for the last day of C2E2, we started the morning by packing up and checking out of the hotel. By the time I was done with my shower, Justin had already left to meet up with the Carrs. After dropping off our bags at the concierge, Mikey, Harry, and I all went back to the con for one more chance to do some shopping. Kayla didn't have a chance to retrieve her tub from our room, so I brought it with us to drop off at her booth. I'm sure I got plenty of weird looks from people passing by. But just like every other day, I was plenty distracted by the epic cosplayers!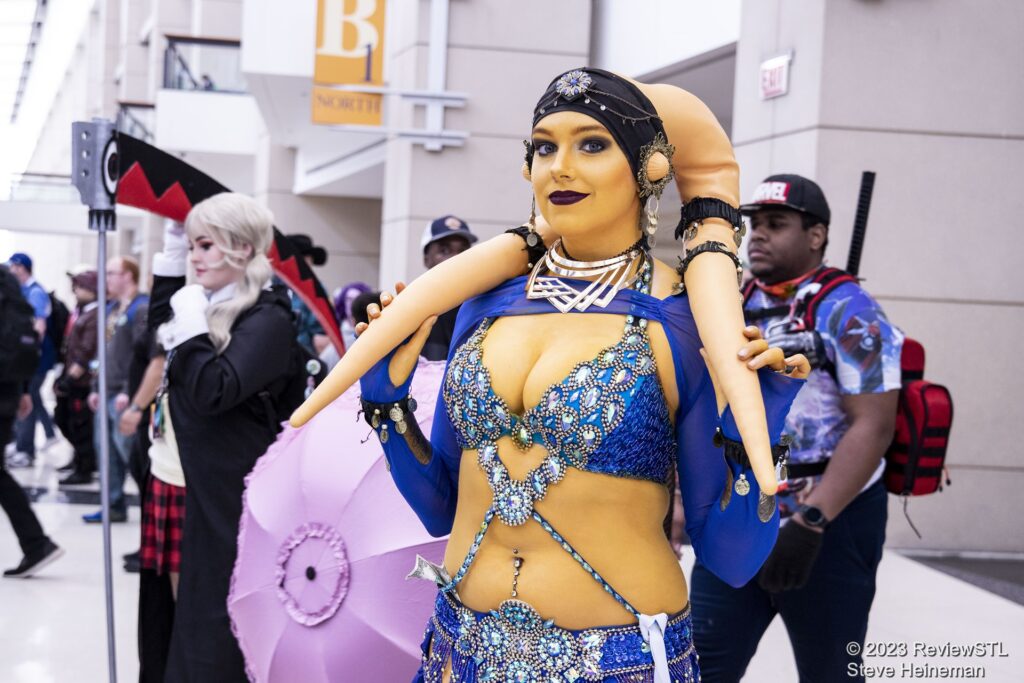 While shopping, my main priority was to say goodbye to as many friends as I could find. Since we had her tub, I made a b-line for Kayla's booth first. It was great to see her again after such a long time. The pandemic and the ensuing dangers of public gatherings kept her from attending for so long. I'm glad we were able to pick up right where we left off back in the early months of 2020. Next, we stopped at the Misty Mountain Gaming booth to say goodbye to both of the Robs. MMG Rob showed us some of the epic gaming gear they offered while HappyNerdPhoto Rob and I geeked out over miniature games. We will absolutely be playing Star Wars Legion in the near future.
The top of my shopping list contained fudge, and after two and a half days at the convention, I was finally made aware of the "fudge war" happening at C2E2. Two companies were in direct competition with very similar offerings. One started doing cons first and was a bit salty that another company started encroaching on their territory. I couldn't tell you which one started first, but I know that both Chocolate Moonshine and Copper Coast Confections saw a lot of business over the weekend. Harry had already bought a couple of slices from Chocolate Moonshine, so I bought from Copper Coast hoping we could compare the flavors. We did compare the two during our weekly Dungeons and Dragons game on Monday, having bought the "Cherry Bourbon" fudge from both vendors. I can say that Copper Coast had the better version of that particular flavor. If both of them return for the next C2E2, I will gladly conduct more testing!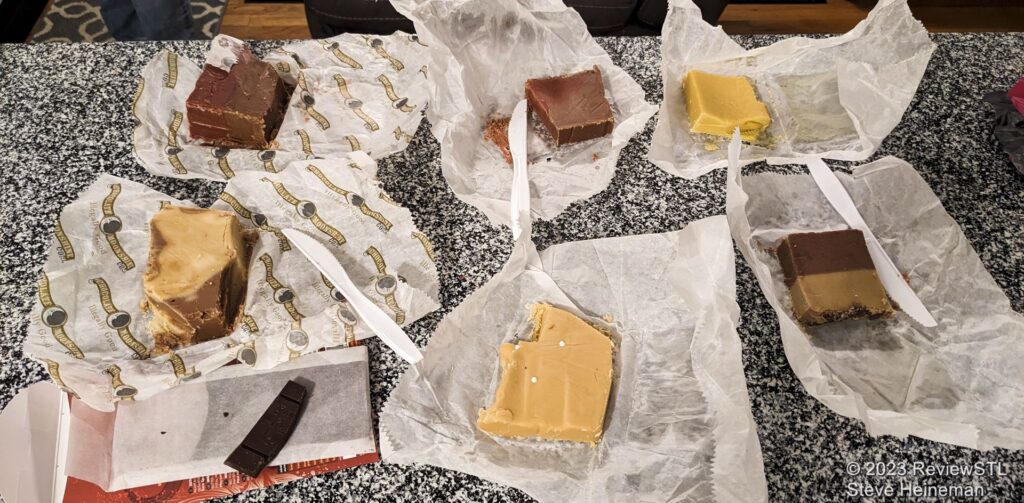 Another stop on the shopping journey was Terry Huddleston Art (@terryhuddlestonart). Terry does some fantastic stylized portraits of so many great characters. His Star Wars and Marvel art got me to stop at his booth years prior, and we've talked in the past about him doing Fallout characters as well. This time, his new style of printing immediately caught my eye. They were a bit pricey – but damn worth it! Just about all of his prints utilized this textured etching that wove intricate designs into each character, and the best ones had metallic accents. It was a hard decision, but I ended up buying a metallic Assajj Ventress poster and a non-metallic Bo-Katan one. After showing Terry the Revan and Malak costumes and talking to him about his future projects, he offered to give me the Bo-Katan print for free! I can't wait to get some frames for those badass posters and get them up on my walls.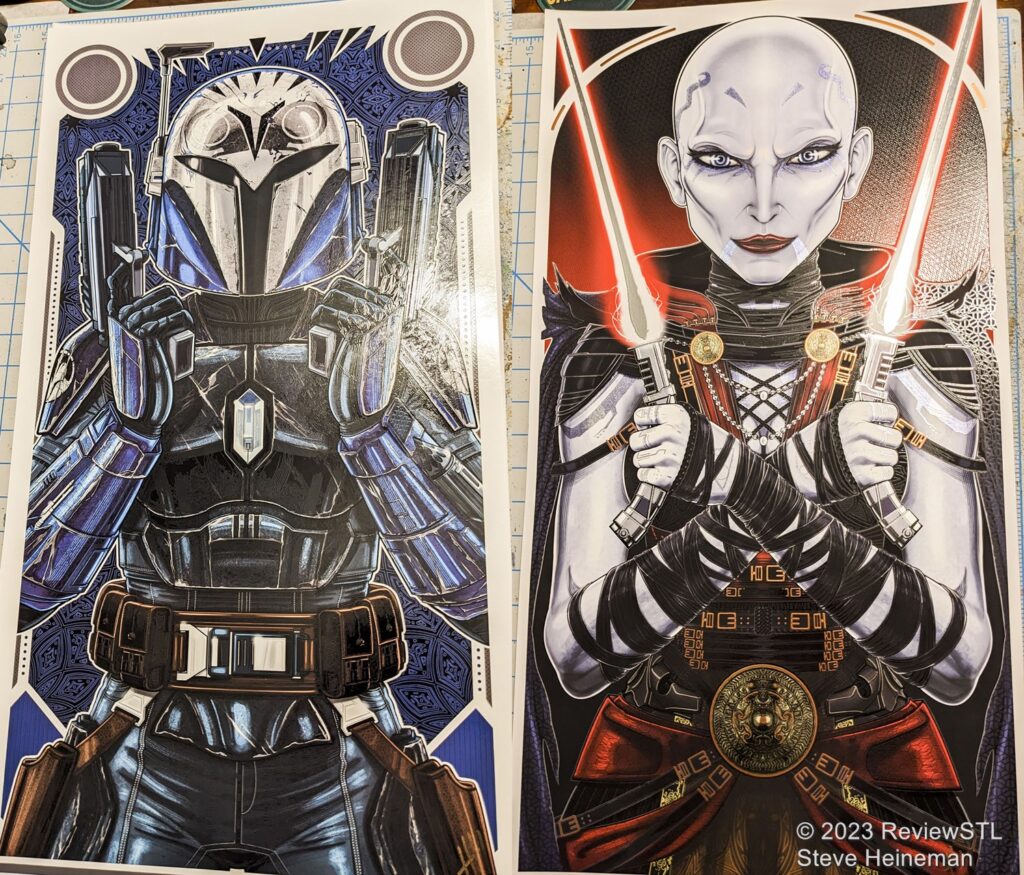 As afternoon hunger set in, we decided to call it a day. We made one last stop at Cosplay Central to say goodbye to a few more friends before going off in search of lunch. We were lucky to find Tim at his booth this time, where we finally got to talk about plans for the future. He teased plans to make a Darth Nihilus to join our Sith Lord group, and offered to help rework my Darth Malak mask to fit my head better. Hopefully, we'll see him again at DragonCon this year.
The way out was relatively uneventful. We stopped for lunch in the Hyatt lobby bar & grill and discussed the weekend while watching various cosplayers walk to and from the convention center. By the time we made the move to leave, retrieving our bags and the car were a breeze. One of the most painless convention escapes we've ever made!
Conclusion
It was another incredible year, once again firmly cementing C2E2 as my favorite convention. The whole Calamity Crew agreed that we are going to include Thursday night in our plans for next year. Adding an extra day would give us time to hang out with friends before the con starts and make Friday much less of a hassle.
I want to give a huge thanks to everyone that spent time with me on this crazy adventure. The cons themselves are well worth the price of admission, but all of you lovely talented people are the reason I come back again and again. The overwhelming joy of coming together with you is indescribable.
There are plenty more plans in store for this year too. While I won't be covering them all for ReviewSTL, you'll have plenty more opportunities to catch me! I'll be at AnimeSTL in April, Tattoo the Lou and the Oddities & Curiosities Expo in May, and maybe even the Warhammer US Open in Kansas City in June. Otherwise, I'll be covering DragonCon again later this year! I'll see you around, nerds.