Watch The "Takers" Red Carpet Live Online – Performances by T.I., Chris Brown, and More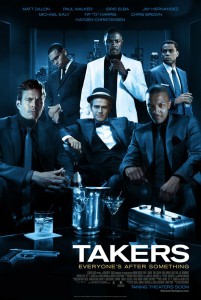 Don't miss out on the live red carpet event, streaming right into your living room tonight!
Screen Gems will be streaming live from the TAKERS Premiere — followed by performances with T.I., Chris Brown, and guest Keri Hilson. The event will be hosted by Terrence J from the 106 & Park show.
6:30 – 8:00pm PST: live streaming from the red carpet
8:00pm PST: during screening, we'll re-run the red carpet coverage
9:30pm PST: live streaming from the after party
10:30pm PST*: live streaming of the musical performances
Webcast will end around 11:30pm*, when the player will run a cutdown of the Premiere coverage
Here is the synopsis for "Takers" —
A notorious group of criminals continue to baffle police by pulling off perfectly executed bank robberies. They are in and out like clockwork, leaving no evidence behind and laying low in between heists. But when they attempt to pull off one last job with more money at stake than ever before, the crew may find their plans interrupted by a hardened detective who is hell-bent on solving the case.
Watch the live red carpet event below:

For more information, find "Takers" on Facebook here.