Watch School Board Shooting Full Video, Miraculously Nobody Was Hurt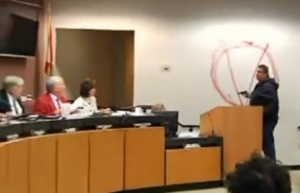 On December 14, 2010 in Panama City, FL, a school board meeting was violently interrupted by a lone gunman who opened fire unexpectedly. Miraculously no one was injured before the gunman, 56-year-old Clay A. Duke, was shot by the head of security – retired detective Mike Jones. Wounded from the gunshots, Duke then took his own life with a self-imposed gunshot to the head.
There were many heroes that day, including Superintendent Bill Husfelt who told Duke to let everyone else in the room go. Duke opened fire on Husfelt point blank, but somehow missed while firing several shots. Before any shots were fired, board member Ginger Littleton tried to sneak up behind the gunman and knock the gun out of his hand with her purse. The heroic attempt was unsuccessful, but luckily Duke did not try to harm her.
Below is the video that was captured of the event. Warning, may not be suitable for those under 17 years of age —
[hdplay id=239 width=595 height=375]