Mark Zuckerberg Wins Time's Person of the Year Over Readers' Favorite, Julian Assange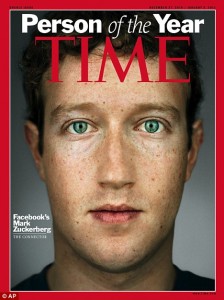 Despite winning the readers' poll, Julian Assange lost Time's Person of the Year to 26=year-old Facebook founder, Mark Zuckerberg.  Also in the running were the Tea Party, the Chilean Miners, Apple CEO Steve Jobs, and Afghanistan leader Hamid Karzai.
As mad as some people are that the reader's poll wasn't the final winner, I can't really blame Time for going with Zuckerberg. Not only has a film, The Social Network, been made about the Facebook founder, but at only 26 he is the head of one of the largest social phenomenons ever.  More than a half a billion people are on Facebook, and have made it a company to rival the likes of Google for internet dominance.
It is hard to make a brand this strong after a lifetime of work, let along in a number of years. For something that started out as a side project in college, Zuckerberg has attained a lot. There aren't many brands you will see grow to this size over the span of a six year period, and it only emphasizes how different the internet market is from the rest of the world.
On the other hand, we have Julian Assange, who might be one of the most pivotal players in world politics. With numerous releases of classified documents, Assange has become a high value target to many world governments. As the face of Wikileaks, Assange acts as a lightning rod for the site, and absorbs the criticism and the open political backlash. Anyone thinking this is an easy position to be in would be wrong. Earlier this year Assange released an "insurance file" in case his life was interfered with by the governments he has exposed.  The file which is heavily encrypted is set to release a password if Assange is taken out in any way.
Assange is a more polarizing figure than Zuckerberg. He doesn't have the story that rings of success and glory, but instead one that exposes a side to government that everyone knows exists, but no one wants to acknowledge. It is obvious both of these men are in charge of internet sites that will change the global landscape for years to come.
What do you think? Let us know in the comments!