Watch the First Four Minutes of 'G.I. Joe: Retaliation'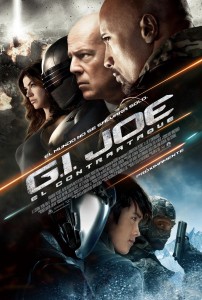 I was not a fan of the first G.I. Joe: The Rise of Cobra.  As evidenced by my review a few years back when we first started the site. It was lazy, made no sense, and wasn't even that fun on top of it. Luckily, the sequel seems to have improved a bit. The story may not be any better, but the action in the trailers and the clip below, are a big step above the first film.  Jon M. Chu, famous for the Step Up series and the LXD, is now helming the series. There's no question that Chu has style, but does he have substance? None of his films so far go beyond cool dance steps. If he strings together a workable plot, all he might need is some good fight choreography though.  I guess we'll have to wait and see.
Synopsis:
Framed for crimes against the country, the G.I. Joe team is terminated by the President's order, and the surviving team members face off against Zartan, his accomplices, and the world leaders he has under his influence.
Cast: Channing Tatum, Bruce Willis, Dwayne Johnson, D.J. Cotrona, Byung-hun Lee, Adrianne Palicki, Ray Park, Jonathan Pryce, Ray Stevenson
Directed By: Jon M. Chu
Release Date: March 28, 2013