Watch Avatar Live Today – Fans on Facebook and MTV Interview James Cameron and Cast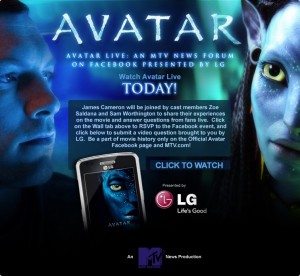 James Cameron will be joined by cast members Zoe Saldana and Sam Worthington to share their experiences on the movie and answer questions from fans live, presented by LG. Click below to be a part of movie history only on the Official Avatar Facebook page and MTV.com!
Click here to visit the Avatar Live Facebook page!
---
LOS ANGELES, (Date) – MTV and Twentieth Century Fox partner on an unprecedented livestream event to give fans a unique and interactive look into the much-anticipated Oscar-winning filmmaker James Cameron's epic adventure AVATAR. Presented by LG Mobile Phones, AVATAR LIVE will stream in high-definition (HD) simultaneously on MTV.com and Facebook on December 3, 2009 at 3:00pm ET/ 12:00pm PT and followed by an all new "Behind the Screen" AVATAR-themed episode on MTV in December.
Produced by MTV News, the livestream event in HD will present exclusive footage and give fans the chance to engage live with Cameron and two of the film's stars, Sam Worthington and Zoë Saldana. The chat will be moderated by MTV News' Josh Horowitz and feature questions submitted in real-time from the greater Facebook and MTV.com audience. The event will be dual streamed in HD and archived through the official AVATAR Facebook community (facebook.com/officialavatarmovie) and through movies.mtv.com. LG is the official event sponsor and will be offering users the opportunity to upload their own questions for the cast to be answered during the live stream.
"We are thrilled to launch this unique partnership with Twentieth Century Fox and bring exclusive AVATAR programming to the MTV audience in new and exciting ways," said John Shea, Executive Vice President, Integrated Marketing and Branded Content, MTVN Music and Logo Group. "Additionally, mashing the dynamic reporting of the MTV News team together with the Facebook platform allows us to connect fans directly to the film's talent in a first of its kind live event and one we hope to replicate with future films."
MTV continues to cover the film on-air with a brand new edition of "Behind the Screen" featuring AVATAR. Produced by MTV News in the 20th Century Fox studio, the episode will feature intimate interviews with the stars of AVATAR, present viewers with clips from the film and more.
Opening in theaters everywhere December 18th, AVATAR takes us to a spectacular world beyond imagination, where a reluctant hero embarks on an epic adventure, ultimately fighting to save the alien world he has learned to call home. James Cameron, the Oscar®-winning director of "Titanic," first conceived the film 15 years ago, when the means to realize his vision did not yet exist. Now, after four years of production, AVATAR, a live action film with a new generation of special effects, delivers a fully immersive cinematic experience of a new kind, where the revolutionary technology invented to make the film disappears into the emotion of the characters and the sweep of the story.
About Twentieth Century Fox
One of the world's largest producers and distributors of motion pictures, Fox Filmed Entertainment produces, acquires and distributes motion pictures throughout the world. These motion pictures are produced or acquired by the following units of FFE: Twentieth Century Fox, Fox 2000 Pictures, Fox Searchlight Pictures, Fox International Productions and Twentieth Century Fox Animation.
About MTV Network:
MTV is the dynamic, vibrant experiment at the intersection of music, creativity and youth culture. For over 28 years, MTV has evolved, challenged the norm, and detonated boundaries — giving each new generation a creative outlet and voice that entertains, informs and unites on every platform and screen. On-air, MTV is the number one rated full-day ad-supported cable network for P12-24. Online, MTV.com averaged 8.5 million monthly unique visitors during the first quarter of 2009 — up +6% from Q4/2008 and up +6% year-over-year. Total video streams for the first quarter of 2009 increased 21% over the same time period last year. And MTV's successful sibling networks MTV2, mtvU and MTV Tr3s each deliver unprecedented customized content, super-serving music fans, college students and young American Latinos like no one else. MTV is part of MTV Networks, a unit of Viacom (NYSE: VIA, VIA.B), one of the world's leading creators of programming and content across all media platforms. Wanna know more? Come on in… www.mtvpress.com
Facebook ® is a registered trademark of Facebook Inc.
About LG Electronics Mobile Communications Company
LG Electronics Mobile Communications Company is a leading global mobile communication and information company. LG creates handsets that provide an optimized mobile experience to customers around the world with its cutting-edge technology and innovative handset design capabilities. Increasingly, LG is pursuing convergence technology and mobile computing products. LG will continue to take leadership in the mobile communication environment with stylish designs and smart technology.
For more information please visit: www.lgmobilephones.com