ReviewSTL's Interview with 'Everybody's Fine' Director Kirk Jones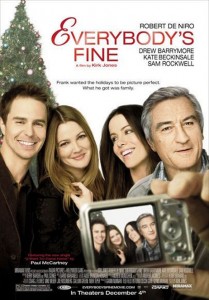 Kirk Jones made a recent stop to St. Louis during the St. Louis International Film Festival to promote his new film Everbody's Fine starring Robert De Niro, Drew Barrymore, Kate Beckinsale, and Sam Rockwell.  He was nice enough to sit down with the local press. You might know him from his previous films Nanny McPhee and Waking Ned Devine. He has moved over to American cinema, and is offering a new take on an Italian film by Giuseppe Tornatore.
In our interview we got to talk about things such as working with Robert De Niro, adapting an Italian film, and his amazing biography according to RottenTomatoes.com.
Synopsis of Everybody's Fine:
"Everybody's Fine," a remake of Giuseppe Tornatore's "Stanno Tutti Bene," follows a widower (De Niro) who embarks on an impromptu road trip to reconnect with each of his grown children only to discover that their lives are far from picture perfect.
The film opens on December 4th! Go see it and let us know what you think!