Walt Disney and Robert Zemeckis Will Remake Beatles' "Yellow Submarine"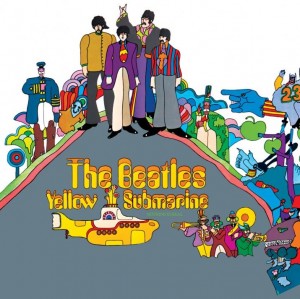 It was announced yesterday afternoon at the D23 Expo that Walt Disney Studios will be working with director Robert Zemeckis to create a remake of the 1968 Beatles film "Yellow Submarine."
Zemeckis, the director of Disney's upcoming "A Christmas Carol" coming out this November said, "'Yellow Submarine' is one of the greatest fantasy films of all time, and making this new 3D performance capture movie is a dream come true for me. With the latest advances in technology, we will be able to take moviegoers on a voyage unlike any other, and bring new excitement and dimension to Pepperland and the various sea worlds they encounter. I'm thrilled to be working with the good folks at Apple Corps and our partners at Disney on this epic retelling of one of my all time favorite films."
The new film will feature the original 16 songs and recordings from the 1968 film including, "All Together Now," "All You Need Is Love," "Eleanor Rigby," "Lucy in the Sky with Diamonds" and "With A Little Help From My Friends." Robert Zemeckis will write and direct the feature.
---
Check out the official press release below —
THE WALT DISNEY STUDIOS, THE BEATLES' APPLE CORPS LTD. , AND OSCAR®-WINNING FILMMAKER ROBERT ZEMECKIS DIVE INTO NEW MAGICAL 3D ADAPTATION OF THE 1968 CLASSIC YELLOW SUBMARINE
Anaheim, California — September 11, 2009 — The Walt Disney Studios has made a deal with Apple Corps Ltd. to develop a new 3D performance capture adaptation of the 1968 hit animated film "Yellow Submarine" to be written and directed by Robert Zemeckis, it was announced today at the D23 Expo by Dick Cook, chairman, The Walt Disney Studios. The film will be created by ImageMovers Digital, Disney's state-of-the-art performance capture animation studio operated in conjunction with Zemeckis and his partners, Jack Rapke and Steve Starkey, who will serve as producers on the project.
For this fantastic new voyage to Pepperland, Zemeckis will incorporate the16 Beatles songs and recordings from the original motion picture licensed from Sony/ATV Music Publishing LLC and EMI-Capitol Records, respectively. The songs include "All Together Now," "All You Need Is Love," "Eleanor Rigby," "Lucy in the Sky with Diamonds" and "With A Little Help From My Friends" while combining his unique vision and style to bring this dazzling tale to life.
In making the announcement, Cook said, "This is truly an inspired collaboration, and a wonderful opportunity to revisit one of the most imaginative and memorable musical fantasies of all time. To be working with the amazing folks at Apple Corps, and to have Bob helming the sub is truly as good as it gets. With all those incredible Beatles songs and imagery, the spectacular vision of Bob and his pioneering team at ImageMovers Digital, and a classic adventure full of wit and action, we're sure that moviegoers are going to have a great time on this latest trip to Pepperland."
Zemeckis said, "'Yellow Submarine' is one of the greatest fantasy films of all time, and making this new 3D performance capture movie is a dream come true for me. With the latest advances in technology, we will be able to take moviegoers on a voyage unlike any other, and bring new excitement and dimension to Pepperland and the various sea worlds they encounter. I'm thrilled to be working with the good folks at Apple Corps and our partners at Disney on this epic retelling of one of my all time favorite films."
Jeff Jones, CEO, Apple Corps Ltd., said, "With The Beatles and Walt Disney Studios, we have a partnership between two of the best loved creative entities in the world. We're very excited about the magical fantasy that will result from this collaboration. The marriage of the music of The Beatles with the talent and technical wizardry of Robert Zemeckis and ImageMovers Digital should produce something very special. We look forward to working with Bob and his team on realising his new vision for 'Yellow Submarine'".
The original motion picture (released in the U.S. on November 13, 1968) based on the music of The Beatles was directed by George Dunning and featured the inspired art direction and design of Heinz Edelmann. The movie is set in Pepperland, an undersea paradise inhabited by music lovers who live in peace and harmony and are protected by Sgt. Pepper's Lonely Hearts Club Band. That is…until they are threatened by the music hating Blue Meanies. It's up to John, Paul, George and Ringo to set off on a magical adventure in their yellow submarine and bring music and harmony back to Pepperland.
About The Walt Disney Studios
The Walt Disney Studios is a unit of The Walt Disney Company (NYSE: DIS) and produces and distributes motion pictures under the following banners: Walt Disney Pictures (which include live-action movies, animated feature films from Walt Disney Animation Studios and Pixar Animation Studios) as well as Touchstone Pictures, Hollywood Pictures and Miramax Films. Walt Disney Studios Motion Pictures International serves as the Studio's international distribution arm. Walt Disney Studios Home Entertainment distributes Disney and other film titles to the rental and sell-through home entertainment markets. Disney Theatrical Group is among the world's most successful commercial theatre enterprises producing or licensing live entertainment events that reach a global annual audience of more than 20 million people in more than 40 countries, and the Disney Music Group distributes original music and motion picture soundtracks under its three record labels: Walt Disney Records, Hollywood Records and Lyric Street Records.
About Apple Corps. Ltd.
Apple Corps Ltd. was founded by The Beatles in 1968 to look after the group's own affairs. The London-based company has administered the catalogue of The Beatles releases of the 1960s that have sold to date more than 600 million records, tapes and CDs. Since the 1990s Apple has piloted new Beatles projects that have become benchmarks for pioneering accomplishment and which have included The Beatles Anthology projects, the 28 million-selling album The Beatles 1 and the The Beatles LOVE show and CD. Further information on The Beatles' projects can be found at http://www.thebeatles.com.