Vote for The Flick Fanatic/Ram Man in STLToday's Rams Fanatic Blog Contest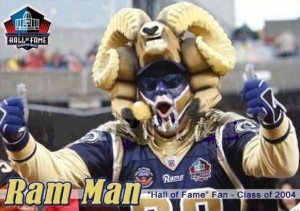 Our friend Karl Sides/RamMan/TheFlickFanatic over at TheFlickFanatic.com is a finalist in STLToday's contest to find the official blogger for The St. Louis Rams football franchise! Go give him support by voting for him in the contest.
His entry:
Yes, I am that guy. I am Ram Man, the guy with painted face, the foam Ram head, and the #1 Rams jersey. I became Ram Man when the team hit town and haven't missed a game since. Tagalong Toni (my wife) and I even hit 2 road games per year. Gameday consists of waking at 5am and "putting on the paint", then tailgate from 6-10am. Then it's time to fire up the fans at the Bud Light Party tent with the Smash Band. Then into the Dome for Ram's Football!
I am that fan you've seen on TV, billboards, Espn and the NFL Network and even on the front page of the team website this season! I am a member of the Pro Football Hall of Fame in Canton Ohio as the "Ultimate Rams" fan. I also belong to a charity organization called the P.F.U.F.A (Pro Football Ultimate Fan Assoc.) with other Hall of Fame fans from around the league. I would love to give everyone the fan's perspective of the 2009-10 Rams as they embark on this new season of change…..GO RAMS!!!!!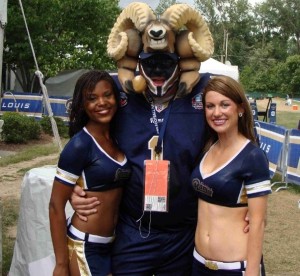 How does it work?
Calling all Rams fans! In 200 words or less, share your thoughts about the Rams and the upcoming season. Submissions will be taken from August 18 through noon on August 28. Ten finalists will be chosen by Tuesday, September 1. Voting for the finalists is open from September 2 through noon on September 9.
Are there prizes?
The finalist with the most votes will be the STLtoday.com Rams Fanatic blogger during the 2009-2010 Rams football season. The winner will have their own blog on STLtoday.com to comment about the Rams during the season.