Favreau and Downey attached to 'Cowboys and Aliens'
Wow, what a long running project. This has been in the works for 12 years. The concept sounds cool, and they keep adding to the project people I like. They start by having the Lost/Star Trek writers penning the script, then they give me the star and director of Iron Man. Personally, I think someone out there is trying to write a geek love note to me…
From Variety.com:
---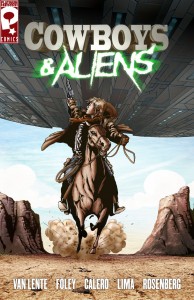 "Iron Man 2" is in the can, and now director Jon Favreau and Robert Downey Jr. want to play "Cowboys and Aliens."
Favreau is circling to direct the long-gestating DreamWorks/Universal project, which has had Downey attached since last summer. Imagine Entertainment's Brian Grazer and Ron Howard are producing with Steven Spielberg, Platinum Studios CEO Scott Mitchell Rosenberg and Alex Kurtzman and Roberto Orci.
A summer production start is eyed. DreamWorks and U will co-finance. Paramount Pictures could opt in as distributor through the exit agreement Stacey Snider and Spielberg made when they moved DreamWorks out of Par.
Kurtzman and Orci are rewriting the script with "Lost" exec producer Damon Lindelof. The trio penned "Star Trek 2."
Story is set in the Old West, where cowboys and Native Americans battle in Arizona — until a spaceship crashes and a new enemy equipped with superior technology emerges. "Cowboys and Aliens" is based on the Platinum Studios Comics graphic novel written by Fred Van Lente and Andrew Foley.
That graphic novel was published in 2006, but Hollywood has been hot for the high-concept project since "Cowboys and Aliens" was first acquired by Universal and DreamWorks in 1997. That sale was made based on a one-sheet of a cowboy and a spaceship, with Steve Oedekerk aboard to write and direct. The project subsequently moved to Columbia Pictures and Escape Artists, and then back to U and DreamWorks, and the script has been through at least seven writers or writing teams.
Favreau and Downey will work together again on "Iron Man 3," which will likely be distributed by Paramount Pictures in its multipicture deal with Marvel Entertainment despite Marvel's $4 billion acquisition by Disney.
"Iron Man 2" bows May 10.
Favreau is repped by CAA.
---
So, here is my question.  How can you be a geek and not be into something like this? The only thing that worries me is the fact that this has such a long development line. Usually when things take this long to get developed they get too many hands in it's making, which usually means it will end up a garbled mess.  Dreamworks seems committed to the idea, and seem to be interested in hiring talent. Let's just hope it isn't another  12 years before they finish this one.