Video of St. Louis Cardinals and Cincinnati Reds Bench Clearing Brawl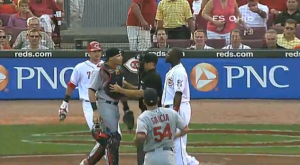 Last night, the St. Louis Cardinals defeated the Cincinnati Reds 8-4. But not before a bench clearing brawl, started by an altercation between Yadier Molina and Brandon Phillips at home plate. But if you heard what Brandon Phillips said about the Cardinals the day before, you would understand why.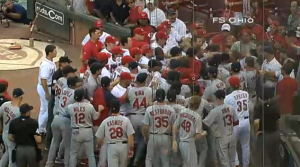 "I hate the Cardinals," said Phillips. "All they do is bitch and moan about everything, all of them, they're little bitches, all of 'em. I really hate the Cardinals." Phillips went on to say, "compared to the Cardinals, I love the Chicago Cubs. Let me make this clear – I hate the Cardinals."
If them ain't fightin' words, I don't know what are. Watch the video below of the altercation:
[hdplay id=117 width=595 height=375]
What do you think about the bench clearing brawl? Who was in the wrong? Leave your thoughts in the comments below!