Victoria's Secret Model Rosie Huntington-Whitely in a Bikini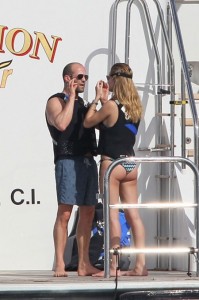 While there is certainly more going on in these photos than the headline suggests, I thought it still got the job done.  So what's so special at seeing a lingerie model in a bikini?  She is half naked all the time.  That's very true and astute of you to point out.  But three things make this better than the Victoria's Secret catalog.
1.  This isn't airbrushed.  While I am sure that a woman of this beauty needs very little airbrushing on her photos, you know they still touch up some areas for her.
2.  She is on a jet ski which proves that she can handle the physicality that Transformers demands.  I am sure she didn't do much of her own stunts, but if she can handle a jet ski she can probably handle getting tossed about by some giant robots.
3.  Jason Statham is the man, and also her boyfriend.  He is just a man's man who kicks tons of ass on screen.  And he is dating her which makes him even more awesome.