'Veronica Mars' Movie Brought To You By Kickstarter?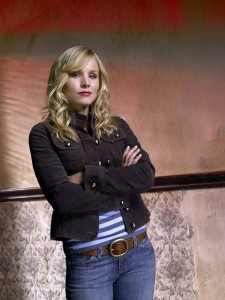 I've been a big fan of Veronica Mars since day 1. I loved it enough to put it on my list of best canceled TV shows. It doesn't have the same following as a show like Arrested Development or Firefly, but it does have a loyal enough fan base that a film has been discussed for years. Firefly had Serenity, now Arrested Development is coming back to Netflix, why wouldn't another show on my list get another shot?
Kristen Bell and Veronica Mars creator, Rob Thomas, have launched a Kickstarter campaign to fund their new film.  The goal is to raise $2,000,000. If they hit their goal (and beyond), Warner Bros. has agreed to do the promotion, marketing, and distribution.  Today at noon (Central Standard Time), the total was just shy of half a million dollars.  It's looking very likely that we will be seeing a Veronica Mars film next year. Now, if only we could do the same thing for Rob Thomas' Party Down movie.
Watch the video below for a broader explanation:
Click here to view the Veronica Mars Kickstarter project.