Valentine's Day Ideas: Flowers on a Budget at ProFlowers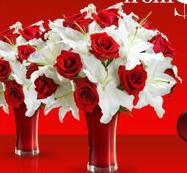 I have been told many times that there are certain things a guy should not forget about. One of those is Valentine's Day.
This year, February 14th falls on a Sunday – this Sunday to be exact, which is only a few days away. With that being said, there are a lot of guys that are going to be doing some last minute shopping for something their loved ones will appreciate. One of the simplest, easiest things to do for them is to get them flowers. It's easy, inexpensive, and shows that you are thinking about them.
Come this time of the year, there is a lot of competition between florists – especially with the growing popularity of online flower sites. But it seems like the best deals have always been at ProFlowers.com. There are so many great deals there – like flowers starting at $19.99 including a free vase! It's worth it to save the time and money, and just have the flowers delivered. But time is running out, so order now while you can still get the lower price on shipping.
Here is another deal that is kind of neat. I have only seen this at ProFlowers: CHOOSE YOUR SAVINGS. That's right – you get to choose between $5 off, Free Vase & Chocolates, or 15% off (minimum purchase of $29.99 required). Click here to get the deal.
Hopefully, this will help a few guys (and gals too) that are still trying to get gifts for their loved ones. HAPPY VALENTINE'S DAY!