Full "Toy Story 3" HD Trailer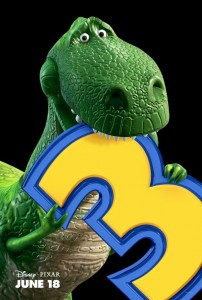 I'm starting to think I'll be very sad if this doesn't turn out to be one of the biggest blockbusters of the summer. After watching the Toy Story double feature last year I was reminded just how tremendous these movies are. They may not have the level of detail in the animation like some of the newer Pixar films, but even Pixar's early efforts are better than other animation studios' latest efforts. What always sold the Toy Story series for me was the characters and story. The original are already classic, and it is because they are packed full of memorable characters who leap off the screen. It looks like this time will be no different. They've added a whole new cast of characters in addition to our main cast.  I have full confidence in Pixar, and I think that it might be a while before they make a bad film.
Synopsis:
The creators of the beloved "Toy Story" films re-open the toy box and bring moviegoers back to the delightful world of Woody, Buzz and our favorite gang of toy characters in TOY STORY 3. Woody and Buzz had accepted that their owner Andy would grow up someday, but what happens when that day arrives? In the third installment, Andy is preparing to depart for college, leaving his loyal toys troubled about their uncertain future. Lee Unkrich (co-director of "Toy Story 2" and "Finding Nemo") directs this highly anticipated film, and Michael Arndt, the Academy Award®-winning screenwriter of "Little Miss Sunshine," brings his unique talents and comedic sensibilities to the proceedings. TOY STORY 3 will be presented in Disney Digital 3D™ in select theaters.
Cast: Tom Hanks, Tim Allen, Joan Cusack, Don Rickles, Wallace Shawn
Director: Lee Unkrich
Genres: Children's Fantasy, Fantasy Comedy, Family-Oriented Adventure, Fantasy, Children's/Family
Release Date: June 18, 2010