Two New Superman Comics Set to Debut From DC Comics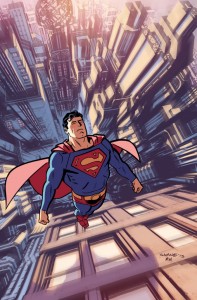 Anyone who knows me, knows that I am a Superman fan through and through.  Action Comics Annual #1 was the first comic I ever bought, and I became a fan immediately. Before the reboot, the Superman books were struggling.  None of them, with the exception of Supergirl & Superboy had real traction with fans.  When the reboot was announced, I was excited by the creative teams attached to Action Comics & Superman.  On Action, we got Grant Morrison and Rags Morales telling stories about a young Superman still finding his way in Metropolis.  In Superman, writer George Perez and artist Jesus Merino told the stories set in the present day.  Neither book lived up to the hype.  Superman's revamped costume was terrible, the art on Action was shaky at best, and Superman was bogged down by DC editorial picking it apart.
Earlier this year, DC launched a digital line of Batman stories by all star creators telling "out of continuity" story lines.  The title isn't tied into the new 52, and creators can tell whatever stories they like.  With the success of the Batman run, DC went ahead and announced a Superman digital line following the same model.
DC released a list of creators attached to the first run of stories, and it reads like a who's who of comic book talent.  Dan Abnett, Ed Benes, Mitch Breitweiser, Giuseppe Camuncoli, Nathan Edmondson, Joshua Hale Fialkov, Christos N. Gage, Marc Guggenheim, Justin Jordan, St. Louis' Own – Matt Kindt, JT Krul, Max Landis, Andy Lanning, David Lapham, Jeff Lemire, Michael Avon Oeming, Riley Rossmo, Stephen Segovia, Bruce Timm, Marcus To, Marv Wolfman are all attached to the book.
However, there was some backlash regarding one of the writers.  Orson Scott Card (The Enders Game novels) was scheduled to write a story with artist Chris Sprouse.  Card's anti-gay views and his stance on gay and lesbian marriage became a hotbed of controversy.  Many groups called for a boycott of the book.  Ultimately, even Chris Sprouse pulled out of drawing Card's story.  Given all the scrutiny, DC pulled the story and replaced it with one written by Jeff Parker and illustrated by St. Louis' Own Chris Samnee.
I, for one, couldn't be more excited about this book.  Legends of the Dark Knight (DC's Batman digital anthology) is simply badass. When you take that concept and attach it to the most iconic superhero EVER, you have a recipe for some great stories.  We will also get see some creators who have never tackled The Man of Steel, and I'm excited to see their version of the Big Blue Boy Scout.
The first digital chapter will debut on April 29th.  You can get it from your Comixology app, or if you use a Kindle Fire or Kindle Fire HD, you can get it in the Kindle Store.
The second book will be titled Superman Unchained.  The massive release will be headlined by writer Scott Snyder (Batman &Swamp Thing) and legendary artist St. Louis' Own Jim Lee (Batman, X-Men, and Justice League).  The original title was Superman: The Man of Steel, and it was going to capitalize on some small budget indie flick Warner Brothers is releasing in the next few months.  There isn't much to say about the book because NOTHING has been said about it.  All we know is that Scott Snyder has said it will have cameos from a certain Caped Crusader, and we will see Superman make appearances in his Batman book, as well.
I cannot wait for this book.  Scott Snyder is a brilliant writer, and I've been hoping to see him take on Superman.  Combine that with St. Louis' Own (he TOTALLY lived here and went to high school here!) Jim Lee, and you will have a massive book. Plus, Lee is the only artist besides current Justice League artist Ivan Reis, who can draw Superman's new stupid costume and not have it look completely terrible.
Come on! Look at that promo art! How awesome is that?!