"Two and a Half Men" Star Charlie Sheen Enters Rehab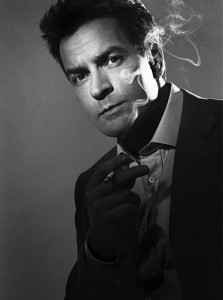 Go ahead and add this to your list of things you probably knew was going to happen. Troubled TV star Charlie Sheen has suspended filming of Two and a Half Men after entering rehab on today. Sheen has gone to a voluntary in patient treatment center, most likely stemming from his charges he gathered up on his Christmas Day argument between him and his wife Brooke Mueller. Sheen has a court date of March 15th for his charges of criminal mischief, third degree assault, and felony menacing.
The news was released through his official spokesperson. "He has asked that his privacy be honored," the spokesman said. "No further statements are planned."
Later Chuck Lorre, creator of his show, CBS, and Warner Bros. TV released a joint statement saying, "CBS, Warner Bros. TV and Chuck Lorre support Charlie Sheen in his decision today to begin voluntary in-patient care at a treatment center. We wish him nothing but the best as he deals with this personal matter. Production on Two and A Half Men will be temporarily suspended."
The show still has 6 episodes left to film, so it will be intriguing to see if the show finishes its run on schedule.