'The Twilight Saga: Breaking Dawn Part 1' In stores February 11 on Blu-ray/DVD! Enter to win a FREE copy!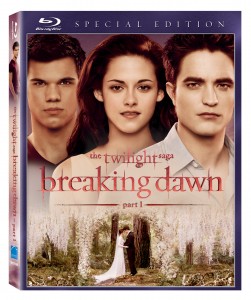 Get it next Friday at midnight (2/11)
Visit the Breaking Dawn website here to find a midnight release party near you!
Breaking Dawn makes the perfect gift for valentine's day
Includes over 2 hours of special features
Go behind the scenes with a captivating 6-PART MAKING-OF DOCUMENTARY; relive the memories with Edward & Bella's personal WEDDING VIDEO; get a glimpse into JACOB'S DESTINY; watch your favorite scenes over and over in EDWARD FAST FORWARD and JACOB FAST FORWARD; plus an AUDIO COMMENTARY with Director Bill Condon
Synopsis: Bella and Edward, plus those they love, must deal with the chain of consequences brought on by a marriage, honeymoon, and the tumultuous birth of a child… which brings an unforeseen and shocking development for Jacob Black
Cast: Kristen Stewart, Robert Pattinson, Taylor Lautner, Billy Burke, Peter Facinelli, Elizabeth Reaser, Jackson Rathbone, Nikki Reed, Ashley Greene, Kellan Lutz
Director: Bill Condon
Enter for a chance to win a FREE copy of the The Twilight Saga: Breaking Dawn Part 1 on Blu-ray or DVD! In order to enter the contest, become a fan of ReviewSTL on Facebook. Then click the "share" button under the post, and tell everyone what your favorite part of the Twilight Saga is and why! Then "like" the post to complete your entry. NO PURCHASE NECESSARY. PLEASE REMEMBER TO READ THE RULES!
Good luck! And don't forget to pick up your copy of the The Twilight Saga: Breaking Dawn Part 1 on Blu-Ray and DVD next Friday (2/11) at midnight!