Movie Review: "Big Miracle" starring John Krasinski, Drew Barrymore and Kristen Bell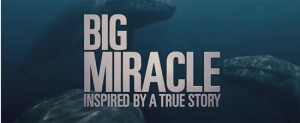 It seems like American audiences love sappy animal movies. They must. Why else would Dolphin Tale, We Bought a Zoo and Big Miracle all have been released within 6 months of each other? While I cannot speak for Dolphin Tale or We Bought a Zoo (because I'm not a masochist), Big Miracle is far less sappy than I would have predicted and much more entertaining.
Honestly, I was expecting some saccharin sweet amalgamation of the worst qualities of Lifetime, Hallmark and Nickelodeon movies. However, Big Miracle was surprisingly mature and refreshingly earnest.  Big Miracle recounts the true story of three California Grey whales who've become trapped off the coast of America's northern most city, Barrow, Alaska. While on a separate assignment, Anchorage reporter, Adam Carlson (John Krasinski) breaks the story and enlists the help of his Greenpeace activist ex-girlfriend (Drew Barrymore) to raise awareness of the problem.
Big Miracle seems to be a film that understands where these types of movies usually falter and compensates for them. While the central human love story is somewhat weak, a phenomenal cast of supporting actors keeps the audience entertained with side stories. Actors like Kristen Bell, Stephen Root, Ted Danson and Dermot Mulroney make the most of a mediocre script and ultimately deliver fine performances.
Big Miracle finds an honest tone that balances the sentimental themes with the more realistic aspects of human nature. Not everyone learns a lesson in the end and there aren't well defined heroes and villains. The best example of this is the portrayal of the local tribe of Alaskan Natives. The incorporation of the local Inupiat tribe provides some weight to the otherwise flimsy story. We get a sense for their cultural values and how those relate to the story of the whales.
Overall, Big Miracle would be a very satisfying way to spend a Sunday afternoon. If you have kids or are a fan of sentimental animal movies, you'll love this film. If you hate sentimental animal movies, you'll probably still like it.
-Worth Your Money-
Not Worth Your Money
Worth Somebody Else's Money
Follow me on Twitter for general musings and up-to-date movie news and reviews @KuroMB