"Twilight: New Moon" Panel from Comic-Con 2009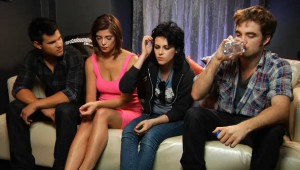 Check out this high quality "Twilight: New Moon" Panel from this year's Comic-Con.
In the video, Entertainment Weekly's Nicole Sperling interviews "Twilight: New Moon" director, Chris Weitz, and stars of the film: Kristen Stewart, Robert Pattinson, Ashley Greene, and Taylor Lautner.
In the newest film in the TWILIGHT saga – Bella Swan is devastated by the abrupt departure of her vampire love, Edward Cullen, but her spirit is rekindled by her growing friendship with the irresistible Jacob Black. Suddenly she finds herself drawn into the world of the werewolves, ancestral enemies of the vampires, and finds her loyalties tested.