TV Review – "Castle" Episode 3.11 "Nikki Heat"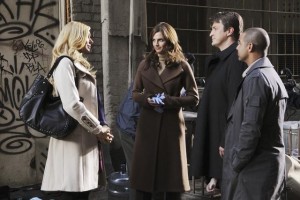 I missed the first season and a half of Castle.  While I love Nathan Fillion, I just din't want to get into shows at the time.  I figured most shows don't make it past two or three seasons anyway so I just wouldn't waste my time.  I caught one episode and was immediately hooked.  So I have decided to report on each episode right here each week.
This week, Castle becomes upset when he learns that actress Natalie Rhodes is set to play the lead in the film adaptation of his novel Heat Wave.  A character that is based upon Detective Beckett.  Much to his surprise Beckett agrees to allow Rhodes to follow her along so that Rhodes can get inside the true character.  Initially Beckett is flattered, and Castle is frustrated. 
Of course we have to have a murder to set the wheels in motion.  This time it is high end matchmaker Stacy Collins, like Millionaire Matchmaker "without the reality show or a pulse".  But who exactly killed the young lady?  Was it an angered ex-boyfriend?  Was it the new PI with a shady past recently hired by the matchmaker to look into clients?  Or could it have been one of her current clients?
As the investigation continues, Rhodes delves deeper into the mind of Beckett.  As Beckett begins to dislike Rhodes, Castle begins to appreciate her more.  After reading the novel that her script is based upon, Rhodes feels she needs to get to know Castle more intimately to prepare for the part.  How far is too far for an actress?
This show's success lies in its two stars.  Nathan Fillion is fantastic in anything he does, but this is a role he is meant to play, a quick witted smart ass.  His one liners throughout the episode leave you laughing.  Stana Katic is the perfect compliment to Fillion.  If the chemistry between them was not there then this show would have failed long ago,
Laura Prepon adds a lot to this episode as actress Natalie Rhodes.  I never really watched That 70′ Show so I never knew Prepon as an actress.  But she really impressed me here.  She captured Beckett perfectly.  It could have been really easy to portray the character as a dim witted movie star, but they really did something fun instead.
The episode was very good.  The show follows a pretty standard formula, but thanks to quick dialogue and likeable characters it is something that I enjoy week in and week out. 
Are you a Castle fan?  What did you think of the episode?  Let us know in the comments below.