Tuesday DVD / Blu-ray Releases – Kick-Ass, The Ghost Writer, and More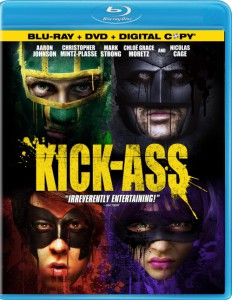 This is a great week in DVD releases so let's just get right into the picks that I want to spotlight.
Kick-Ass had very high expectations from me.  While it didn't surpass them, it certainly met them pretty well.  I never read the comics that this film is based on, but from what I understand the movie captured the tone perfectly.  I thought the cast was terrific with Mark Strong being the go-to villain in cinema this year with this, Robin Hood, and Sherlock Holmes.  Despite my dislike for Nicholas Cage, I enjoyed him immensely in this role.  But Chloë Grace Moretz really steals the film as the tough as nails Hit-Girl.  If you are a superhero or action film fan and have not seen this film do so now.  If you are not a fan of a young girl violently attacking men three times her age and cursing worse than a sailor then you might want to skip it.
The Ghost Writer is currently my third favorite film of the year.  It stars Ewan McGregor and Pierce Brosnan in an adaptation on the novel The Ghost by Robert Harris.  McGregor plays the ghost (no name is given in the film) who is in charge of completing the memoirs of a former British Prime Minister.  The film is a tight thriller that will keep you guessing from beginning to end with many twists and turns along the way.  The film is directed by Roman Polanski who has turned in some great films over the years and this film belongs right next to some of his best.
The other films I want to focus on this week on not new to being on DVD, but they are new to Blu-Ray.  James and the Giant Peach does not offer much new as far as special features go, but the beautiful animation and visuals that this film provides will look outstanding on Blu-Ray.  Road to Perdition has my favorite performance by Jude Law and an outstanding performance from Tom Hanks and Tyler Hoechlin.  I just think it is an outstanding story about the relationships between fathers and sons, and it is my favorite work by Sam Mendes.  And finally, Escape From New York hits Blu-Ray for the first time this week.  Kurt Russell plays the ultimate bad-ass in this John Carpenter classic.  This movie was also shot in St. Louis and features locations such as the Fox Theatre.
There you have my DVD picks of the week.  Is there anything else this week that you are excited to see come out?  Will you be picking up one or more of these films sometime this week?  Let us know in the comments below.