"Treasure Island" Reboot Coming To Theaters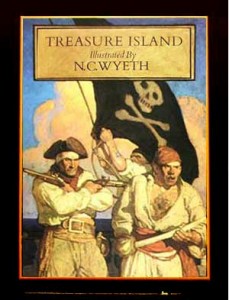 Robert Louis Stevenson's famous swashbuckler Long John Silver from his literary classic, Treasure Island,  is going to be making his way to the silver screen soon. Ecosse Films has seen the dollar signs presented to them by many other franchises, and figured the time is ripe for a Treasure Island reboot.
This isn't like the reboot of an already established modern franchise, but more of a reboot in the vein of the new Sherlock Holmes films. The film is going to create a new more edgy version of Long John Silver. This basically amounts to a Pirates of the Caribbean ripoff (or homage if you prefer). The tale is ripe for a big budget adaptation as the tale is filled with tales of pirates and their gold. Even though the story predates Pirates of the Caribbean it will have trouble in marketing, as it will have to dispel the myth that it is only a ripoff of the popular film franchise.
The roles of Long John Silver and narrator Jim Hawkins will most likely be cast with big name actors to propel the project, and generate some industry buzz. The film has been adapted many times before, but has not seen a hugely successful version of it in a while.
What do you think? Is this just another ploy to cash in on a hot trend? Are you excited about seeing a literary classic being reinvented? Let us know at MyReviewSTL!