Leonardo DiCaprio and Bar Refaeli Are Engaged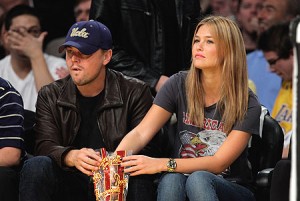 Movie star heartthrob, Leonardo Dicaprio, and supermodel girlfriend, Bar Rafaeli are engaged according to latest reports. The on and off again couple of four years reportedly got engaged over a Valentine's dinner yesterday.
Sources close to DiCaprio say the reports are rubbish, and that the story is a complete fabrication.
The two were seen to have dinner in Berlin last night, but ended up making separate appearances at the premiere for DiCpario's latest film Shutter Island.
The two are known to be on and off all the time, which makes the news more surprising. I'm willing to bet the source that says this is  a false report is most likely. DiCaprio seems to be set on staying a playboy for a few more years (and who can really blame him?). More reports will come as they are available.
What are your thoughts on the manner? Let us know at MyReviewSTL!