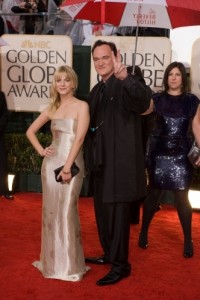 "I'd like to do a Western. But rather than set it in Texas, have it in slavery times. With that subject that everybody is afraid to deal with. Let's shine that light on ourselves. You could do a ponderous history lesson of slaves escaping on the Underground Railroad. Or you could make a movie that would be exciting. Do it as an adventure. A spaghetti Western that takes place during that time. And I would call it a 'Southern'."
It is a bit hard to believe that Tarantino hasn't made a Western already. There is so much influence from Spaghetti Westerns in his films already that you just kind of forget he hasn't even touched the genre head on. His last films Inglourious Basterds and Kill Bill he touched upon the genre closer than he had ever gone before, but not to the full extent.
That isn't to say that if he does a Western it will be like any type of Western we've seen before. Tarantino's films are filled with homages, and many times you have homages to multiple genres in one type of film. I have chided him at times for just taking old ideas and making them his own, and have argued with people when they call him something like "visionary" or "genius", but there is one thing for sure after watching him, he has a style all of his own.
So, what do you think? Is this the next film he needs to make? Will this be as successful as Inglourious Basterds? Let us know at MyReviewSTL!