New "Defendor" Trailer Starring Woody Harrelson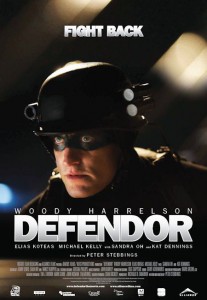 Defendor looks very similar to 2008's Special starring Michael Rappaport, with a mix of Kick-Ass thrown in. In all the films, the main character is deluded into trying to become a superhero. Kick-Ass is the only one that has a main character who isn't specifically crazy. Both Defendor and Special have protagonists who through some mental illness believe themselves to be superheroes. Special was a bit of a disappointment, mainly due to the ending and slightly off pace. The idea behind the film was brilliant, and I hope Defendor can do a little bit better with the premise. It has a really good cast, and it looks to be quite funny. I just have one question, has Woody Harrelson aged at all in the past 25 years? He looks pretty much the same as he has since Cheers.
Synopsis:
A super hero tale revolving around the point of view of three characters: Arthur Poppington who believes he is a superhero, his psychiatrist, and a young teenager that Arthur befriends. Arthur is committed to fighting crime and becomes a superhero of his own invention named Defendor. Armed with nothing but his own courage he takes to the city streets to protect innocent lives.
Starring: Woody Harrelson, Sandra Oh, Kat Dennings, Michael Kelly
Directed by: Peter Stebbings
Produced by: Sean Buckley, Nicholas D. Tabarrok