Scorsese and De Niro Teaming Up Once Again?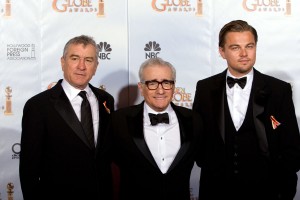 It has been a while since Martin Scorsese and Robert De Niro teamed up for a film, actually the last one was 1995's Casino (only if you don't count their roles in 2004's Shark Tale). Since then Scorsese has been tied up with another long time collaborator, Leonardo DiCaprio. Well, it seems that it is time for a reunion.
Scorsese while doing promotion for his latest film, Shutter Island, has been telling press that he plans to team up with De Niro again for a new mobster film. "Bob De Niro (and I) are talking about something that has to do with that world," Scorsese said at the premiere of his new psychological thriller at the Berlin International Film Festival on Saturday. "There's no doubt about that," he added. "We're working on something like that, but it's from the vantage point of older men looking back, none of this running around stuff."
The duo have made a total of nine films which include: Mean Streets, Taxi Driver, New York, New York, Raging Bull, The King of Comedy, Goodfellas, Cape Fear, and Casino.
I'm all for these two pairing up again. Who wants to bet Leonardo DiCaprio will join them? It is almost a given that he is in all of Scorsese's films these days.